November 28
"Be strong and courageous, do not be afraid or tremble at them, for the LORD your God is the one who goes with you. He will not fail you or forsake you." - Deuteronomy 31:6
The only way to get to the site that is most likely the actual place Jesus was baptized is to traverse a no-man's land laced with mines. There's a narrow road leading down to the Jordan. On rare occasions, scholars and tourists may be taken there, but only in the company of Israeli soldiers and their guns. In life, we walk through minefields and get surrounded by enemies. But God's promise is to be our "convoy." If we go in company with Him, we don't have to tremble at the dangers around us.
Click here to sign up for your free Winning Walk newsletter!
OUR THANK YOU TO YOU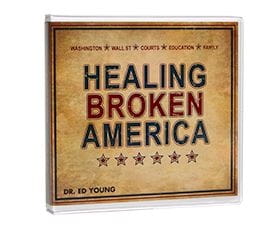 Be a Part of the Healing of Broken America!
A quick glance at the nightly news, the newspaper, or the Internet reveals that we are experiencing one crisis after another. Washington is broken, Wall Street is broken, the
courts are broken, the schools are broken. Even the
family
is broken!
In his 6-message CD series,
Healing Broken America
, Dr. Ed Young addresses head-on the major areas in our country that must change if we are to see our nation restored. He clearly defines the five areas where America is broken, and then offers common sense, biblically-based remedies for healing those wounded areas. Learn how to be part of the solution for America.