Answers for Each Day - Oct. 31

Are You a "Convenient Christian"?
Some Christians are "convenient Christians." These are believers who seek to obey God, but only when it is convenient.
It is like the men and women of Israel who came to the prophet Jeremiah one day to see if it was God's desire for them to go to Egypt. You find their story in Jeremiah 42-43.
After they asked Jeremiah to ask God on their behalf, they said (Jeremiah 42:6),
"Whether it is pleasing or displeasing, we will obey the voice of the LORD our God to whom we send you, that it may be well with us when we obey the voice of the LORD our God."
Now that sounds pretty good. These folks seem like they have it together spiritually and truly desire to obey God.
But just a few verses later, when Jeremiah tells them, "This is the word of the Lord: Don't go into Egypt. Stay here," they respond this way (Jeremiah 43:2),
"You speak falsely! The LORD our God has not sent you to say, 'Do not go to Egypt to dwell there.'"
Some people's posture is, "God, I'm going to do anything you say…as long as it agrees with my viewpoint." Some will say, "Lord, I'm going to be obedient and give an offering…but I'm not giving ten percent of my income. You can forget that because I just don't see it that way."
Or, "God, I'm going to do whatever You say, but I'm not going to forgive so-and-so because what they did to me is just unforgivable."
Friend, we can't pick and choose. It has to be, "God, I am going to do whatever You say. I'm going to do it whether it rubs the cat's fur the wrong way, whether it plows my field crossways…pleasing, displeasing, I'm going to obey."
Do not be a "convenient Christian."
Visit the Answers with Bayless Conley website for more ways to Connect with God
and
click here to view today's Answers with Bayless Conley broadcast at LightSource.com.
FEATURED RESOURCE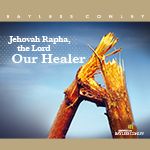 Jehovah Rapha, the Lord Our Healer
The Bible reveals God's nature through the names it gives Him. Jehovah Rapha means "I am the Lord who heals you." God is, by His very nature, a healer. He is a God of health, healing, and wholeness.
Bayless Conley shows you how to grasp the importance of God's role as divine healer – and how to access the healing power of God's nature – in the powerful message
Jehovah Rapha, the Lord Our Healer!
We want to send you this powerful CD message as our thank you for your generous donation to help Answers with Bayles Conley continue to bring a living Jesus to our dying world.
May this resource help you find healing from the Lord!
Recently on Answers for Each Day, with Bayless Conley
Follow us on Facebook
Get Answers for Each Day, with Bayless Conley devotionals directly to your News Feed.
Have something to say about this article? Leave your comment via Facebook below!
advertise with us
Example: "Gen 1:1" "John 3" "Moses" "trust"
Advanced Search
Listen to Your Favorite Pastors