Help, Lord, I'm Stuck! - From His Heart - Week of April 4

HELP LORD, I'M STUCK!

Bretheren, I do not regard myself as having laid hold of it yet; but one thing I do: forgetting what is behind and reaching forward to what lies ahead, I press on toward the goal for the prize of the upward call of God in Christ Jesus. Philippians 3:13-14
Some years ago, Debbie and I took the girls (ages 10, 8, and 6 at the time) to Breckenridge, Colorado for a vacation in the snow. Although neither of us ski, we thought it would be fun to play in the snow, sled, drive snowmobiles, and just enjoy the winter wonderland as a family.

Our "welcome to your rather expensive winter vacation" was an unkind slap in the face, however. Our condo was on the third floor. We nearly passed out in the thin air as we hauled the luggage upstairs. The girls raced outside to play while Debbie and I got things situated in the condo. Within minutes, our middle daughter Amy lost her glove and got snow in her boots. She was crying, "I just want to go home!" UGH!

I told the girls we would find a hill to sled down and it would be great fun. But as I was searching for where to go, I got the rental car stuck in the snow. To say the least, I was not a happy camper. In fact, I was spitting nails and wanted to join Amy in her lament, "I just want to go home!" And then it happened. Debbie's "nervous laugh" kicked in. It was the last thing I needed to hear at that moment. I was stuck in the snow and wanted to pull the plug on the vacation from hell.

STUCK IN LIFE?

It is one thing to get stuck in the snow, but quite another to get stuck in life. Truth be told, that is the case for many people. They are stuck in life. Could that be true of you? Have you gotten stuck in the ditch, so to speak, unable to move forward because of adverse circumstances or failures of the past? Are you holding on to hurts and heartaches from days gone by? Do you find yourself longing for the "good old days" while the present days continue to march on without you? What can be done when you are stuck in life?

Mark it down: God takes no pleasure in a derailed, ditch-dwelling Christian, living forlornly in the past. He wants you to forget what lies behind. He wants you to get back on track with Him, moving forward as a force for Jesus Christ.

God is the Great I AM, not the Great I Was. As such, He desires for you and me to live in the present, not the past. There is a call to every Christian to press on with the Lord in obedience and the power of the Holy Spirit. Yesterday is gone, and tomorrow may never come. All we have is today. And God says to you today, "My child, walk with Me. Let Me shine like the sun through you as you yield yourself to Me. I have good works for you to do this day that will let people know I am real and alive in you."

You don't have to be stuck one more day. You can get your life out of the ditch as you take the hand of Jesus and begin pressing on with Him. Remember, He can forgive all sin. He can give you beauty for ashes. He can work all things together for good. He is waiting for you to call on His name.

PRAYER TO GET UNSTUCK

Dear God, I don't want to live stuck in the past, feeling like my life has lost meaning and purpose. I want to press on with You. Forgive me, Lord, for wallowing in guilt, resentment, and self-pity. Thank You for the valleys and victories of days gone by. Let me learn from them … and move forward. Thank You that You have big plans for me this day. I choose to walk with You by faith. In Jesus' name. Amen.

Love,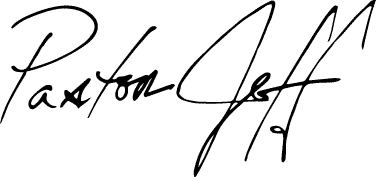 Jeff Schreve
www.fromhisheart.org
P.S. Discover that you are not alone in prayer. Allow many people to join you in prayer. Go to www.fromhisheart.org/prayer.
Jeff Schreve founded From His Heart Ministries, www.fromhisheart.org, in 2005 with the vision to reach as many people as possible with the good news of God's love. Jeff believes that no matter how badly you may have messed up in life, God still loves you and has a great plan just for you. He broadcast on radio, TV and in the internet around the world from his pulpit ministry as Pastor of First Baptist in Texarkana, Texas. This ministry is completely listener/viewer supported. It continues only through the faithful and generous gifts of people like you. Pastor Jeff takes no income from this ministry. All gifts go to further the broadcast.

SPECIAL OFFER

The Bible says that there is a time for everything and a season for every activity under heaven … (Ecclesiastes 3:1). Each season is different, but each one brings its own blessings and growth. In this encouraging 3-Message series from Pastor Jeff Schreve, titled "SEASONS," he shares with us some of the seasons we will experience in our spiritual life and what God desires for us through those key times.

For a Donation of $25 or More:

You will receive the cd album "Seasons," and Pastor Jeff's inspiring devotional book "Real Encouragement For Real Life."
Recently on From His Heart, by Pastor Jeff Schreve
Follow us on Facebook
Get From His Heart, by Pastor Jeff Schreve devotionals directly to your News Feed.
Have something to say about this article? Leave your comment via Facebook below!
advertise with us
Example: "Gen 1:1" "John 3" "Moses" "trust"
Advanced Search
Listen to Your Favorite Pastors