Passing Inspection
For we must all appear before the judgment seat of Christ, that each one may receive the things done in the body, according to what he has done, whether good or bad. - (2 Corinthians 5:10)
If you have been involved in a building project, then you know your project must pass a final inspection. Sometimes you pass. And sometimes you don't pass and have to fix whatever it was that fell short of the inspector's requirements.
The apostle Paul describes a future inspection for believers in 2 Corinthians 5:10: "For we must all appear before the judgment seat of Christ, that each one may receive the things done in the body, according to what he has done, whether good or bad." The word "bad" in the original language means "evil of another kind." It also could be translated "good for nothingness" or "worthlessness."
Paul was speaking of Christians who have been saved by the grace of God and have put their faith in Jesus. But they have lived lives that largely have been wasted.
We are all building on a foundation, and that foundation should be Christ. The building materials we use are important. A paraphrase of 1 Corinthians 3:10–15 puts it this way:
Take particular care in picking out your building materials. Eventually there is going to be an inspection. If you use cheap or inferior materials, you'll be found out. The inspection will be thorough and rigorous. You won't get by with a thing. If your work passes inspection, fine; if it doesn't, your part of the building will be torn out and started over. But you won't be torn out; you'll survive—but just barely.
One day we will stand before God, and He will look at the materials we used. Some of us will pass. Others will hear Him say, in effect, "You are in. I love you. But you didn't really pass inspection. You could have done more."
Will the life you are building pass inspection?
Copyright © 2013 by Harvest Ministries. All rights reserved.
Unless otherwise indicated, Scripture taken from the New King James Version. Copyright © 1982 by Thomas Nelson, Inc. Used by permission. All rights reserved.
For more relevant and biblical teaching from Pastor Greg Laurie, go to www.harvest.org
and
Listen to Greg Laurie's daily broadcast on OnePlace.com.
Watch Greg Laurie's weekly television broadcast on LightSource.com.
SPECIAL OFFER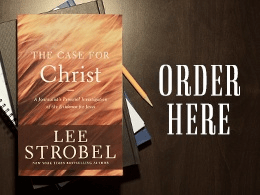 "Do you value the teaching and encouragement you receive from A New Beginning with Greg Laurie?
Is there credible evidence that Jesus really is the Son of God?
Retracing his own spiritual journey from atheism to faith, Lee Strobel, former legal editor of the Chicago Tribune, cross-examines a dozen experts with doctorates who are specialists in the areas of old manuscripts, textual criticism, and biblical studies.
Strobel challenges them with questions like How reliable is the New Testament? Does evidence for Jesus exist outside the Bible? Is there any reason to believe the resurrection was an actual event?