WHEN YOU DON'T FEEL THANKFUL
He who offers a sacrifice of thanksgiving honors me. - Psalm 50:23
What do you do when your life is going south? What do you do when it is "THANKSGIVING" and you have just lost a loved one… or just lost your job… or just lost your marriage? Surely you cannot be expected to give thanks… can you?
Sometimes thanksgiving is a sacrifice.  Sometimes we must thank God through clenched teeth and chocked back tears. Thanksgiving in the midst of a terrible storm brings tremendous joy to His heart. It shows the Lord that we really trust Him… regardless of the adverse circumstances we are facing. 
THE THANKSGIVING CONSTANT
Perhaps you are one this year who is having trouble finding good in your life. Look no further than Jesus. He never changes. Despite everything you might be facing, you can rejoice in Him. You can give thanks for Him and His love and care for you. You can give thanks that He promised to work all things together for good. 
Train yourself to give thanks in everything. Remember… a sacrifice of thanksgiving brings honor to the Lord. Thank Him for that trial you are facing. Thank Him for that sorrow. He will use your thanks for His glory and your ultimate good!
 Love,
Jeff Schreve
---
Dr. Jeff Schreve believes that no matter how badly you may have messed up in life, God still loves you and has a wonderful plan just for you. From His Heart provides real truth, love and hope on over 700 radio stations each day, in 149 countries each week on TV, and is always available online.  Pastor Jeff takes no income from this ministry. All donations go to furthering the broadcast outreach. As a listener/viewer supported ministry, we thank you for joining with us to help speak the truth in love to a lost and hurting world. Go to www.fromhisheart.org for more information.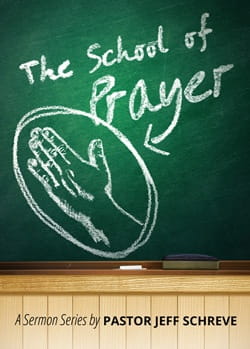 The School of Prayer
"Lord, teach us to pray," was a request of Jesus' disciples.  They knew they needed to learn and grow in this vital spiritual area of life.  There is great power in prayer, so the devil fights to keep us off our knees.  In this inspiring series, Pastor Jeff Schreve shares the fundamental principles of prayer to help you take your prayer life to a higher level and see God "answer you, and … tell you great and mighty things, which you do not know."