Chapters & Verses: Who Needs 'Em?
Christopher R. Smith, Bible Study Magazine
Tuesday, September 20, 2011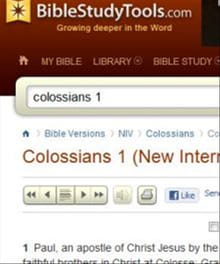 Paul has not met the Colossians. So he expands his opening section to explain, in a prayer, that he knows them through a mutual friend named Epaphras. He gives the essentials of his gospel and describes his struggle on behalf of the Gentiles. In the main body, he offers correction, followed by instruction. He ends the letter with personal greetings.
The break between chapters 1 and 2 cuts off a small part of the opening section and groups it with the main body. The break between chapters 2 and 3 is more reasonable. It comes between the two major themes. But the division between chapters 3 and 4 is ridiculous. It actually breaks up a sub-section of a sub-section. Why was a chapter break put there? Perhaps to give prominence to the command, "Masters, provide your slaves with what is right and fair." But certainly not to reflect the natural literary outline of the letter.
The Medieval imposition of chapters and verses on the biblical text inevitably leads to confusion. It's unfortunate that a chapter-by-chapter approach is practically our default mode for expository preaching, home Bible studies, and devotional reading.
But there are alternatives. Using Bible software we can cut and paste without chapters and verses, or view the Bible text without paragraph divisions. In some printed versions, such as The New English Bible, the numbers are moved to the margins. The Books of The Bible from the International Bible Society presents the biblical text visually according to its natural literary outline. The text appears in a single column, with larger and smaller sections set off by white space of varying widths. Chapter and verse numbers are removed entirely from the text. (A traditional chapter and verse range is provided at the bottom of each page.) An introduction to each book describes how it is structured.
With resources like these, it's safe to preach through Acts again—not chapter-by-chapter, but literary section by literary section.

Article courtesy of Bible Study Magazine published by Logos Bible Software. Each issue of Bible Study Magazine provides tools and methods for Bible study as well as insights from people like John Piper, Beth Moore, Mark Driscoll, Kay Arthur, Randy Alcorn, John MacArthur, Barry Black, and more. More information is available at http://www.biblestudymagazine.com. Originally published in print: Copyright Bible Study Magazine (July–Aug 2009): pgs. 46–47.
Publication date: September 20, 2011
Have something to say about this article? Leave your comment via Facebook below!
advertise with us
Example: "Gen 1:1" "John 3" "Moses" "trust"
Advanced Search
Listen to Your Favorite Pastors