Leading a Bible Study
Elizabeth George
Monday, March 29, 2010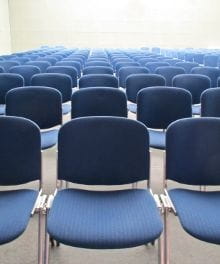 2. The gossip—The Bible clearly states that gossiping is wrong, so you don't want to allow it in your group. Set a high and strict standard by saying, "I am not comfortable with this conversation," or "We [not you] are gossiping, ladies. Let's move on."
3. The talkative member—Here are three scenarios and some possible solutions for each.
a. The problem talker may be talking because she has done her homework and is excited about something she has to share. She may also know more about the subject than the others and, if you cut her off, the rest of the group may suffer.
SOLUTION: Respond with a comment like: "Sarah, you are making very valuable contributions. Let's see if we can get some reactions from the others," or "I know Sarah can answer this. She's really done her homework. How about some of the rest of you?"
b. The talkative member may be talking because she has not done her homework and wants to contribute, but she has no boundaries.
SOLUTION: Establish at the first meeting that those who have not done the lesson do not contribute except on opinion or application questions. You may need to repeat this guideline at the beginning of each session.
c. The talkative member may want to be heard whether or not she has anything worthwhile to contribute.
SOLUTION: After subtle reminders, be more direct, saying, "Betty, I know you would like to share your ideas, but let's give others a chance. I'll call on you later."
4. The quiet member—Here are two scenarios and possible solutions.
a. The quiet member wants the floor but somehow can't get the chance to share.
SOLUTION: Clear the path for the quiet member by first watching for clues that she wants to speak (moving to the edge of her seat, looking as if she wants to speak, perhaps even starting to say something) and then saying, "Just a second. I think Chris wants to say something." Then, of course, make her a hero!
b. The quiet member simply doesn't want the floor.
SOLUTION: "Chris, what answer do you have on question 2?" or "Chris, what do you think about…?" Usually after a shy person has contributed a few times, she will become more confident and more ready to share. Your role is to provide an opportunity where there is no risk of a wrong answer. But occasionally a group member will tell you that she would rather not be called on. Honor her request, but from time to time ask her privately if she feels ready to contribute to the group discussions.
In fact, give all your group members the right to pass. During your first meeting, explain that any time a group member does not care to share an answer, she may simply say, "I pass." You'll want to repeat this policy at the beginning of every group session.
5. The wrong answer—Never tell a group member that she has given a wrong answer, but at the same time never let a wrong answer go by.
SOLUTION: Either ask if someone else has a different answer or ask additional questions that will cause the right answer to emerge. As the women get closer to the right answer, say, "We're getting warmer! Keep thinking! We're almost there!"
Learning from Experience
Immediately after each Bible study session, evaluate the group discussion time using this checklist. You may also want a member of your group (or an assistant or trainee or outside observer) to evaluate you periodically.
May God strengthen—and encourage!—you as you assist others in the discovery of His many wonderful truths.
---
Article adapted from The Remarkable Women of the Bible: Growth and Study Guide by Elizabeth George (Harvest House Publishers © 2003.)
Elizabeth George, author of A Woman After God's Oww Heart ® (more than 500,000 copies sold), Life Management for Busy Women, A Woman's High Calling, and a Woman's Walk with God, is a popular tecacher and speaker at Christian women's events. Her passion is to teach the Bible in a way that changes women's lives. She and her husband, Jim, are parents and grandparents, and have been active in ministry fo more than 25 years.
Have something to say about this article? Leave your comment via Facebook below!
advertise with us
Example: "Gen 1:1" "John 3" "Moses" "trust"
Advanced Search
Listen to Your Favorite Pastors