Facing Today: Not Your Average Bible Study
John D. Barry, Editor in Chief, Bible Study Magazine
Thursday, May 12, 2011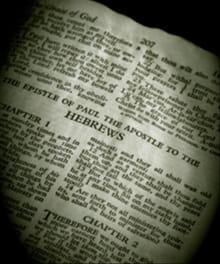 Text: Hebrews 2
Facing Today: An 8-Week Study
Economic failure and job losses have become common place. Painful circumstances are tearing away at the cultural, church and family ties that hold us together. It has become hard to see Jesus. But, what if times were worse? What if we were waiting for God to eternally redeem us as well? This was the case before the Son of God came to earth.
After addressing many of the pressing issues of the first century ad (and likewise today), the author discusses Jesus' priesthood. We must hold fast to the ultimate hope: The Son of God who became Son of Man, Jesus (Heb 1:5; 2:16). He relates to our finite struggles because He too endured pain and temptation (Heb 2:14–18). But the Son of God doesn't quit there, He alters the course of the infinite by becoming our high priest and the sacrifice that makes us one with God again.
WEEK 1: High Priest of the Past, High Priest of the Present
Pray that God would reveal the purpose of Jesus' high priesthood to you.
Read the entire book of Hebrews aloud in one setting.
Underline "high priest" each time it occurs. Pay attention to how the author compares and contrasts Jesus as the high priest with other priests.
Reread 5:1–8. What does the vocation of a priest entail? (List the four things the author describes.) Aaron, Moses' brother, was the first high priest after the Israelites left Egypt. Under the guidance of God, Moses decided how religious practice was to be conducted in the wilderness and eventually in the Promised Land. Aaron and his sons, who were from the tribe of Levi, were in charge of making sure the people worshiped God correctly. They also interceded between God and the Israelites by offering sacrifices that symbolized payment for their wrongdoings. But the system had a fatal flaw—the priests weren't perfect (Heb 5:2–3), which made the sacrificial system imperfect and temporary.
How is Jesus the same as other priests? How is He different?
What sacrifice did Jesus make? How does His sacrifice alter your view of God and affect your life?
Continue to reflect and pray through these questions throughout your week.
WEEK 2: Consider Jesus
Pray that God would show you more areas of your life that Jesus can enter.
Read Hebrews 2–4.
Reread 2:14–18. Why does Jesus help us? What did Jesus have to do to become a faithful high priest? What was His role before becoming a high priest? (See Heb 1:1–14.)
Reread Heb 3:1–6. What type of calling do we have (3:1)? Jesus is an apostle (one sent from God) and a high priest (someone who intercedes between people and God). What is our confession?
Reread Heb 4:11–16. From where did Jesus come (4:14)? What can Jesus do that He previously could not do before He took on flesh (4:15)? What are we commanded to do (4:14, 16)?
What can you do to better align your life with God's calling?
The Son of God can sympathize with our weaknesses because He became like us. Take hope in having an advocate between you and God who knows what it is like to struggle, hurt and be tempted. Hold fast to your faith in, and obedience to, the Son of God, our eternal high priest.
Continue to reflect and pray through these questions throughout your week.
WEEK 3: Chosen by God
Pray that God would help you understand Jesus' vocation and your calling.
Read Hebrews 5–6.
Rather than being chosen by people to be a high priest like Aaron (5:1), Jesus was appointed by God to be a high priest after the order of Melchizedek (5:5, 10).
Have something to say about this article? Leave your comment via Facebook below!
advertise with us
Example: "Gen 1:1" "John 3" "Moses" "trust"
Advanced Search
Listen to Your Favorite Pastors