The Fire of the Word
Chris Webb
Thursday, July 05, 2012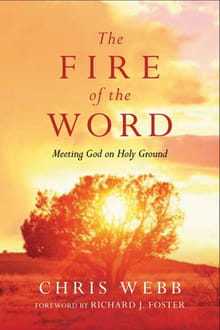 the legendary "I have a dream" speech, was grounded in the Gospels, where Jesus is continually presented as the friend of all those on the edges of first-century Jewish culture—sinners, tax collectors, women, lepers, outcasts. In every way, King was a man changed and shaped by hearing the voice of God.

All these remarkable figures from the history of the church relived, in one way or another, the formative experience of Moses standing before the burning bush. Most of us are familiar with the story. Moses, having fled Egypt after murdering one of the Egyptian slave drivers, found himself herding sheep in the stark, rocky desert of the Sinai peninsula. Day after day he wandered the trackless wasteland, moving the flock from one watering hole to another; a former prince of Egypt, he had become a forgotten solitary in the wilderness, invisible to the rest of the world—as though already dead.

From time to time small brush fires would spark in the dry, brittle undergrowth, but one day Moses was surprised by crackling flames in the branches of one of the desert bushes. The fire appeared to be burning vigorously, but the bush was not consumed by the flames. Intrigued, curious, perhaps a little afraid, he clambered over the rocks to get a closer look. As he drew near he was astounded to hear a voice from the fire calling to him. "Come no closer!" he was told. "Remove the sandals from your feet, for the place on which you are standing is holy ground" (Ex 3:5). By this point Moses was trembling with fear, aware now that he had somehow stumbled right into the presence of God.

During the conversation which follows, Moses received the word of God, a sort of condensed Scripture. The range of material covered in these few paragraphs of text is remarkable and encompasses most of the key themes and genres of the biblical text in abbreviated form. There are promises: "I have observed the misery of my people who are in Egypt . . . and I have come down to deliver them" (Ex 3:7-8), and there are commandments: "I will send you to Pharaoh to bring my people, the Israelites, out of Egypt" (Ex 3:10). These affirmations and instructions are set in the context of God's dealing with his people in history ("The Lord, the God of your ancestors, the God of Abraham, of Isaac, and of Jacob, has appeared to me" [Ex 3:16]) and theological reflection on God's character and nature ("'I am who I am.' . . . 'Thus you shall say to the Israelites, I am has sent me to you'" [Ex 3:14]). God performs miracles, challenges Moses' reticence, gives him prophetic words, rebukes him and reveals something of a future yet to come. There are even a couple of poetic lines in verse 15 as God shares his name with Moses: "This is my name forever, and this is my title for all generations." God's words to Moses are almost a Bible in miniature.

The experience of meeting God at the burning bush changed Moses. Despite his uncertainties and doubts, his weaknesses of character and his fears, his life was turned around from this point forward. Emerging from his desert hiding place, he confronted one of the mightiest leaders of the ancient world, led an entire people out of slavery and through forty years of nomadic desert wandering, stood atop Mount Sinai in the midst of fire and thunder to receive the Torah from God, with whom he spoke face to face, and became one of the most significant figures in world history. His experience in the wilderness changed him, changed those around him and ultimately transformed the world.

But the most significant aspect of this entire experience was not the words that Moses heard. It was neither the history nor the theology, not the wisdom or the poetry. Moses was not changed by a text. He was utterly transformed by a direct encounter with God, an experience which was mediated through the words. When Moses heard the voice of God, he shook with terror and hid his face in the folds of his robe. Why? Because he was about to receive a couple of chapters of the book of Exodus? No! He was awestruck because the voice he heard made real and immediate the presence of the Holy One of Israel. In the words, Moses met God. And so can we.

As I kneel in my cold chapel this morning, I read these words in the dim lamplight: "A voice cries out: 'In the wilderness, prepare the way of the Lord'" (Is 40:3). I'm learning to listen for that voice in Scripture, the cry that summons me to be ready for God's presence. It's the voice of the prophets and the seers, the patriarchs and the priests. It's the call of the wisdom chasers, the evangelists, the poets, the apostles. It is the cry of the Bible from beginning to end: Maranatha, "Our Lord, come!" (1 Cor 16:22).

So then, the invitation to us is this: not to explain God but to experience God. Kneel alongside me, and we'll listen for his voice together. We are on holy ground.

Readings

At the end of each chapter of this book are readings that will help you explore the theme of the chapter more fully: seven readings for each chapter, enough for a week of meditation and reflection. If you follow this course of prayerful experience of the Bible alongside your reading of the book, you will spend almost four months learning to read and pray with Scripture in a fresh and enlivening way. That's enough time for the practices described here to become habitual and second nature. Your reading of the Bible will have been transformed.

These first seven readings are intended simply to provide a gentle starting point. Each reading describes a biblical encounter between an individual and God's word. Some are a little strange (for example, John eating a scroll), some involve hearing God speak directly (as with Moses), and others with God's Word being read (such as Jesus in the synagogue).

Spend a little time with each of these, reading them through slowly and prayerfully. Ask God to use these readings to help you understand both how Scripture has affected the lives of others and how it affects your life. Ask the Spirit for insight into your relationship with God through the Bible. You may want to journal or make notes you can return to as you work through the remaining chapters of this book. After finishing the book and undertaking all the suggested reading exercises, you could review your notes from this first week to see how your experience of God in Scripture is being transformed.

Day 1 Exodus 3:1-7 (Moses hears the voice of God)
Day 2 1 Samuel 3:1-10 (Samuel hears God in the temple)
Day 3 2 Kings 22:3-20 (Josiah rediscovers the book of the law)
Day 4 Nehemiah 8:1-12 (Ezra reads the law in Jerusalem)
Day 5 Psalm 119:33-48 (the psalmist rejoices in the law)
Day 6 Luke 4:16-22 (Jesus reads in the synagogue)
Day 7 Revelation 10:1-11 (John consumes God's word)

To order or read more about The Fire of the Word, click here.

Taken from The Fire of the Word: Meeting God on Holy Ground by Chris Webb. Copyright(c) 2011 by Chris Webb. Used by permission of InterVarsity Press PO Box 1400 Downers Grove, IL 60515. www.ivpress.com.
Have something to say about this article? Leave your comment via Facebook below!
advertise with us
Example: "Gen 1:1" "John 3" "Moses" "trust"
Advanced Search
Listen to Your Favorite Pastors