Judging Others: A Closer Look at Matthew 7:1
Eric J. Bargerhuff
Monday, June 18, 2012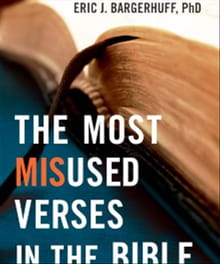 How ridiculous. Jesus said that judgment always reciprocates. In other words, the measuring stick they used to measure the lives of others will be the same measuring stick held up against their lives by God himself. Consider this: It is one thing to be judged by your fellowman, but quite another to be judged by God himself. The hypocritical Pharisees were in danger of the latter.
Notice that Jesus says the hypocrite will be the one with the bigger problem. Why? Because their sin was not merely comparable to a speck of dust; it was more like a wooden plank (quite a difference). And they refused to take it out.
What this means is that the greater judgment is reserved for the one who has purposefully overlooked his own mammoth sin while pointing out the smaller sins of others. Jesus emphatically says this must change, so he gives two commands: Stop judging others in a hypocritical fashion, and get the sin out of your own life.
Yet let's be clear. Jesus is not suggesting that we have no right to make moral judgments about human behavior, and he is certainly not suggesting we have no right to hold others accountable. He doesn't condemn mutual accountability and moral responsibility and the need to address sin in the church—he addresses hypocrisy.
But it makes little sense to approach a Christian brother or sister about their specific sin (even if you should rightly do so) if you are committing the very same sin and are unwilling to address it or break free from it.
For example, you hear another believer cursing and in humility you gently and lovingly correct him in private, but not a moment later you get on the phone with a friend and share some juicy gossip about someone in church. Do you correct someone else's tongue, but are not willing to correct and restrain your own?
Or imagine a father concerned about how his teenage daughter dresses when she goes to the mall (he wants her to have a sense of propriety, and he understands the struggle males can have in this area). Does he have the right to be concerned? Yes, of course. As a responsible father and mature adult, he has every right to draw up moral boundaries for his children that are in keeping with the principles of Scripture (in this case modesty).
Right after his daughter leaves for the mall, imagine this same father alone in the house. He immediately turns on his computer and begins surfing the Internet for pornography. One minute he is addressing his daughter's need for appropriate modesty (and rightly so) and the next minute he is reveling in immodesty and sexual fantasy with his own eyes and heart. This, my friends, is hypocrisy, and Jesus condemns this sort of behavior. A father should not set up a standard for his daughter that he is unwilling to follow.
Unfortunately, much damage has been brought to the reputation of the church by Christians who say one thing and do another. This is not to say we can ever be perfect, but it is of utmost importance that we live lives of consistency and integrity in order to safeguard the name of Christ, whom we represent, as well as the reputation of his church.
The truth of the matter is we should all be grieved about sin in our lives. And when we see it, we should address it, confessing it and forsaking it out of reverence for God. It is only when we are consistently doing this ourselves that we are qualified and able to address the sins in the lives of our brothers and sisters in the church, which we must do as well.
The Bible makes it clear that it is our duty to spur one another on to live lives that please God. First, our lives should give evidence that we have truly repented of our sin and received Christ by faith. Then from time to time, as necessary, we are also called to mutually correct, rebuke, and encourage one another in love.
Again, no one will reach perfection in this life, but togetherwe are to wage war against and forsake the sin that results from living in our fallen flesh. We are to "take off the old life," so to speak, and "put on the new," growing in holiness out of reverence for God. But the reality is we can't accomplish this without the help of the indwelling Holy Spirit and the mutual encouragement and accountability of our fellow brothers and sisters in Christ. We can't do this alone; we need each other!
Have something to say about this article? Leave your comment via Facebook below!
advertise with us
Example: "Gen 1:1" "John 3" "Moses" "trust"
Advanced Search
Listen to Your Favorite Pastors