The Once and Future Bible: Why We Still Need the KJV
Stan Guthrie, Author
Friday, March 25, 2011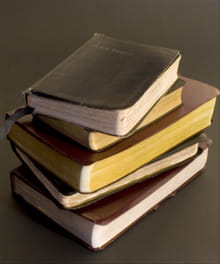 When I was a new Christian back in the 1970s, the KJV's dominance, though slipping, remained in place. Uncertain about which translation to select to nurture my nascent faith, I stepped inside a now long-gone Christian bookstore in Boca Raton, Florida. I asked the lady behind the cash register for help. We looked at the several versions available on her shelves. One had this feature to commend it, another that. There was no clear leader in my mind, and so I fell back on the King James, which had stood the test of time.
I plunked my money down on the counter and carried away my copy, a red-letter edition clad in aromatic burgundy bonded leather, with a matching ribbon marker, a handy thumb index, and with explanatory articles, color maps, and a concordance in the back. It was published by Eyre and Spottiswoode Limited, London, and Zondervan.
While eventually I moved on to easier and more accurate modern English translations (such as the NASB, the NIV, and, now, the ESV), I still have that first Bible and in fact am reading through it this year (I'm currently in 1 Kings), in honor of the KJV's quadricentennial. While some of the archaic terms (such as caul, kine, and matrix) have sent me scrambling for a concordance or dictionary, others find a special resonance in my heart, such as Joshua 1:7: "Only be thou strong and very courageous, that thou mayest observe to do according to all the law, which Moses my servant commanded thee: turn not from it [to] the right hand or [to] the left, that thou mayest prosper whithersoever thou goest."
All in all, reading the King James has not only given me a refreshing (albeit challenging) perspective on God's Word. It has also reminded me that I am part of a movement that spans centuries and cultures—in short, that I belong to something much bigger than myself.
And it's clear that a lot of Christians agree with me. According to the CBA trade group, the King James remains enormously popular. Despite the proliferation of translations and all the recent momentum of the ESV and the refurbished NIV, the KJV is the No. 2 Bible in terms of dollar sales, and No. 3 based on the number of copies sold.
While evangelicals generally conform to David Bebbington's description of the essentials of the faith, in the main our movement is fragmented. What do Willow Creek and a struggling rural congregation have in common? Not a lot. We are a divided lot along the lines of race, class, music, theology, social ministry—even Bible translation. This is doubly so when we include mainline Protestants, Roman Catholics, and the Orthodox.
That's why I have a modest proposal for this 400th anniversary. On an agreed upon date, perhaps May 1, let's come together for a King James Sunday. We can prepare our people ahead of time and use the KJV in our services as a tangible reminder that we are united in a tradition of having God's Word in our own language, and that we can approach God as equals. Perhaps we could start with this passage:
Blessed is the man that walketh not in the counsel of the ungodly, nor standeth in the way of sinners, nor sitteth in the seat of the scornful.

But his delight is in the law of the LORD; and in his law doth he meditate day and night.

And he shall be like a tree planted by the rivers of water, that bringeth forth his fruit in his season; his leaf also shall not wither; and whatsoever he doeth shall prosper.
Stan Guthrie, a Christianity Today editor at large, is author of All That Jesus Asks: How His Questions Can Teach and Transform Us (Baker Books). Stan blogs at http://stanguthrie.com.
Have something to say about this article? Leave your comment via Facebook below!
advertise with us
Example: "Gen 1:1" "John 3" "Moses" "trust"
Advanced Search
Listen to Your Favorite Pastors