Transmitting the Word: An Interview with John Piper on Consistency and Community
John D. Barry, Editor in Chief, Bible Study Magazine
Wednesday, February 15, 2012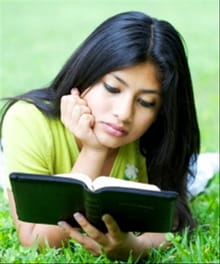 RT: @JohnPiper Shocking end to 175 verses of love for the law: 'I have gone astray like a lost sheep; seek your servant' (Ps 119:176).
9:15 am Jun 28th from TweetDeck
If you were following John Piper on Twitter.com, you'd be reading messages like this from him on a regular basis. Twitter is a relatively new technology, but to the well-known pastor and theologian, it's just one more way to share what he learns from spending time studying God's word each morning.
Dr. Piper learned how to study the Bible at Fuller Theological Seminary. After completing his doctoral work at the University of Munich, he taught for six years at Bethel College in St. Paul, Minnesota. In 1980, he took the call as Senior Pastor (now called Pastor for Preaching and Vision) at Bethlehem Baptist Church in Minneapolis.
In 1994, fourteen years into his pulpit ministry, Piper unveiled the vision of a resource ministry called Desiring God. The ministry offers Piper's sermons and writings, as well as other resources, free for personal use.
Dr. Piper's influence is considerable. With over 30 published books, including Desiring God, Don't Waste Your Life, Spectacular Sins, and Finally Alive, he has reached countless people through print. After about three months of tweeting, his Twitter.com posts were being followed by nearly 18,000 people and growing. Nearly 23,000 readers subscribe to his blog and a video featuring him on YouTube has been viewed over 233,000 times.
Piper has transmitted the message of the Bible to countless people around the world, but how does he personally approach the Bible? BSM asked the preacher that question and others in a recent interview.
BSM: There's an old saying, "Familiarity breeds contempt." How do you keep your familiarity with the Bible from causing you to grow indifferent to it?
PIPER: I pray Psalm 119:18 each time I go to the Bible: "Open my eyes that I may behold wonders in your law." I think the point of that prayer is that there are wonders everywhere in "the law," in the Bible, the instruction of God. And the psalmist is aware that he doesn't often feel or see wonderful things as wonderful. So he asks to see. I do as well. I'm asking specifically that I would have spiritual eyes to see what is wonderful as wonderful. And don't think that it doesn't matter that you read glorious things without seeing them as glorious. It matters, and therefore we should plead with God to open our eyes.
BSM: How should we approach the Bible when reading it?
PIPER: I'm torn as to which approach to take in answering that. I want to say right off the bat that we should approach the Bible with reverence. And yet I'm aware that there might be people reading this who don't even know enough about the Bible to know whether it should be revered or not. Maybe they've barely even read it. Because of the history of the Bible, exerting power in the lives of people for good for over two thousand years, I think I would say to those people, "Come to the Bible with a sense of expectation and openness that here you might find something vastly more wise and more penetrating and more world-shaping than any of the contemporary ideas you are presently dealing with."
And after they come, I think they will discover that this is the very Word of God and, therefore, it should be approached with a sense of reverence. And it should be approached with a sense of need and with a sense of expectation that God has given us this Word in order to meet our needs, to convict us of sin, to bring us to the point of forgiveness, and then to give us hope.
Second Timothy 3:16 says that the Scriptures are inspired by God and are sufficient for sound doctrine and every good work. There's nothing God expects of us that He does not provide in this Word. He helps us understand what to do and gives us the motivation to do it. There's a high-level expectation that I think people ought to have when they approach the Bible.
Have something to say about this article? Leave your comment via Facebook below!
advertise with us
Example: "Gen 1:1" "John 3" "Moses" "trust"
Advanced Search
Listen to Your Favorite Pastors