What to Say When There's Nothing to Say
C. Adam Clagg, Bible Study Magazine Contributor
Thursday, August 29, 2013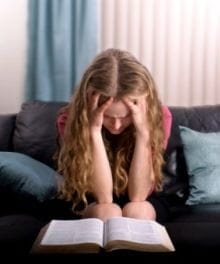 "Why would God do this?" his grandmother asked me as we stood in front of her grandson's casket. Was there an answer that would calm her troubled heart? Nothing I could say would take away her pain. I told her that I did not know why her grandson died, but that God cares for us when we are suffering.
First Peter is about suffering. Certainly not a topic I like to read about or hear preached, but Peter casts it in a new light. And he has reasons for doing so.
Reason 1: Peter's Experience
The apostle Peter understood suffering from identifying with Jesus and his years serving the fledgling church. Sometimes his suffering was self-induced, caused by his own mistakes. The simple, rugged fisherman failed when he took his eyes off Jesus while walking on the water. Peter even denied Christ during the last few hours before the crucifixion. Despite all this, Jesus never forsook Peter, and God used these experiences to mold him.
In [Christ] you greatly rejoice, though now for a little while you may have had to suffer grief in all kinds of trials. These have come so that your faith—of greater worth than gold, which perishes even though refined by fire—may be proved genuine and may result in praise, glory and honor when Jesus Christ is revealed (1 Pet 1:6–7 NIV).
Peter's view is ironic (to say the least). When we endure pain, most of us doubt God's love, or even question our salvation. Peter reminds us that suffering isn't punishment from God. It is temporary. Even though God didn't cause the pain, He will refine us through it. Peter seems to be echoing what Job said after he endured a tremendous trial: "But [God] knows the way that I take; when he has tested me, I shall come out as gold" (Job 23:10 NIV).
If Job and Peter could find purpose in their pain, then there must be something to what they are saying. The mystery of suffering is never fully expressed. But it does seem that suffering leads us to pray more—whether out of anger, protest or petition. And thus, in the midst of tragedy, our relationship with God can improve.
Reason 2: Christ's Suffering
As odd as it sounds, we have the opportunity to become more like Jesus by suffering.
Jesus gave us the ultimate example of godly endurance when He died for our sins. He had a purpose in mind. Peter says that "Christ suffered for [us], leaving [us] an example … [We] should follow in his steps" (1 Pet 2:21 NIV). But why do we need to suffer like Jesus? Wasn't He crucified "once and for all" for us?
These questions delve further into the mystery of anguish. It is not that we need to suffer just like Jesus. Because Christ suffered and "bore our sins in his body on the tree, so that we might die to sins and live for righteousness; by his wounds you have been healed" (2:24).
The last line of 1 Pet 2:24 is an allusion to the servant in Isaiah.
Surely he took up our infirmities and carried our sorrows, yet we considered him stricken by God, smitten by him, and afflicted. But he was pierced for our transgressions, he was crushed for our iniquities; the punishment that brought us peace was upon him, and by his wounds we are healed. We all, like sheep, have gone astray, each of us has turned to his own way; and the Lord has laid on him the iniquity of us all (Isa 53:4–6 NIV, emphasis added).
Have something to say about this article? Leave your comment via Facebook below!
advertise with us
Example: "Gen 1:1" "John 3" "Moses" "trust"
Advanced Search
Listen to Your Favorite Pastors