What to Say When There's Nothing to Say
C. Adam Clagg, Bible Study Magazine Contributor
Thursday, August 29, 2013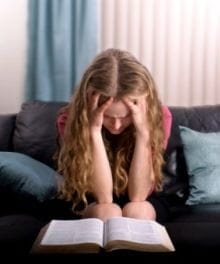 We see the English word "blessed" again in 3:14 "But even if you should suffer for what is right, you are blessed (μακάριος, makarios)." First Peter 3:14 uses makarios, not eulogeō or eulogia. This is a different kind of "blessing" than what we see in 3:9. Makarios is the word we find in Jesus' "Blessed are you" sayings in Matt 5. Jesus says:
Blessed are the poor in spirit, for theirs is the kingdom of heaven. Blessed are those who mourn, for they will be comforted. Blessed are the meek, for they will inherit the earth. Blessed are those who hunger and thirst for righteousness, for they will be filled (Matt 5:3–6 NIV).
All of Jesus' sayings are about how God will vindicate His people—what He will do for them in the future. In His next statement, Jesus even echoes Peter's logic in 3:9: "Blessed are the merciful, for they will be shown mercy" (Matt 5:7 NIV). If you show mercy, God will be merciful. If you show kindness to other people when they are cruel, they will likely be kind to you. Giving someone what they don't deserve changes everything, and it results in God's favor—His future blessing.
The apostle talks about this in depth in his second letter.
Reason 4: God's Faithfulness
One day, our suffering will end. We will be united with our suffering Lord and those who came to know Him because we suffered well. This is what Peter says near the end of his second letter, which he wrote very close to his execution:
Since everything will be destroyed … what kind of people ought you to be? You ought to live holy and godly lives as you look forward to the day of God and speed its coming. [The day God comes] will bring about the destruction of the heavens by fire, and the elements will melt in the heat. But in keeping with his promise we are looking forward to a new heaven and a new earth, the home of righteousness. So then, dear friends, since you are looking forward to this, make every effort to be found spotless, blameless and at peace with him. Bear in mind that our Lord's patience means salvation (2 Pet 3:11–15 NIV).
Suffering does not last forever. Not only do we follow Christ's example by suffering, but we also follow in His resurrection. One day, God will raise us up out of our suffering.
First and Second Peter gives us a complete picture of suffering. These letters remind us that suffering is only temporary and that it exists because we live in a fallen world. But one day Christ will return and redeem this world and make everything right. One day God will vindicate us. In the meantime, we have to act like Christ by being kind to those who do not deserve kindness. In doing so, we will realize the profoundness of suffering—the mystery. For this reason, Peter says at the end of his letter, "Cast all your anxiety on [Christ] because he cares for you" (1 Pet 5:7).
Article courtesy of Bible Study Magazine published by Logos Bible Software. Each issue of Bible Study Magazine provides tools and methods for Bible study as well as insights from people like John Piper, Beth Moore, Mark Driscoll, Kay Arthur, Randy Alcorn, John MacArthur, Barry Black, and more. More information is available at www.biblestudymagazine.com. Originally published in print: Copyright Bible Study Magazine (May–June 2010): pgs. 29–31.
Publication date: August 29, 2013
Have something to say about this article? Leave your comment via Facebook below!
advertise with us
Example: "Gen 1:1" "John 3" "Moses" "trust"
Advanced Search
Listen to Your Favorite Pastors