Elfstrand Affirms Manhood with 10 Passions of a Man's Soul
Shawn McEvoy, Faith Editor
Friday, July 27, 2007

Now, whenever we're talking about "passions," that's something where balance is going to be an important factor. Can you speak to, for example, balancing a man's passion for wealth; what does that look like?
Okay, well, you take a look at the extremes of what a man could do with money. He could be very miserly over on one side, or he could be very extravagant in his spending on the other side. Well the miser sort of looks at it probably like it's his own. And the man who's extravagant probably has lost the [correct] sense as well, he's thinking that it's his own. The man of faith should start out with one basic principle in motion, and that is that it's not mine. That's the hardest single financial principle, I think, for any man to adopt – that it all belongs to God. Well now if you start from that point – let's just make that the center point – on one side you don't want to be extravagant to the point of wasting God's resources, because they're not yours, they're God's. On the other hand (that's why you want to stay balanced), if you go too far into the miserly side, you're probably not investing in the kinds of things that God would invest in with His heart.
So the idea of balance is to say, "Do I have a benchmark to look at my life?" So in each chapter I try to put components together that explain this, and to take a look at the balance issues.
I have one more question for you – something that really intrigued me from your introduction. You say that you "field tested" the material in your book. Can you talk about that process, and how it went?
Yeah, this was on the heels of the men's retreat I told you about. So kind of a Step Two was realizing that this was a significant issue, and I'd read some previous books on this too, so I sort of knew where we were going. I ran across this material by Robert Lewis that he teaches, and actually he's got a 3-year curriculum, that has to do with the masculine soul. It's called The Quest for Authentic Manhood. Once we brought his curriculum into our men's group, I flew down to Little Rock, met with Robert Lewis, and there were 1,000 guys on a Wednesday morning at 6:00 meeting in his church. A thousand men in Little Rock. And they're out there for like a 24-week series on this quest for authentic manhood, and this is the third time he's done it down there. I'm like blown away from this, and so I brought our pastor with me, and we went down there, and when we came back up he said, "Now what's next?" And I said, "Well… what are you…" And he says, "I'm willing to do this."
So we did the same thing Robert Lewis did; we simply announced in our church that we were going to be starting to teach this curriculum the following Wednesday. That's all we did. And we had 150 guys show up, versus 30 that we were getting on a Saturday morning. And this is at 6:00 a.m. in the Naperville area outside of Chicago on a Wednesday morning. And then we repeated it on Saturday for the guys that couldn't come, and we had about 35-40 guys. Our men's ministry went from about 30 guys to 190 guys.
So with that kind of now the benchmark for where we were going, after two years of Robert Lewis's curriculum I said, "We're about ready to do our own." And it was at that point I was asked, you know, where do you want to go with this? I said, "I've been working on this thing called 'Passions of Manhood.'" And that's what we did. I taught a 10-week series on The 10 Passions of a Man's Soul, and got a wonderful response, and Moody Publishers then decided to make it a book.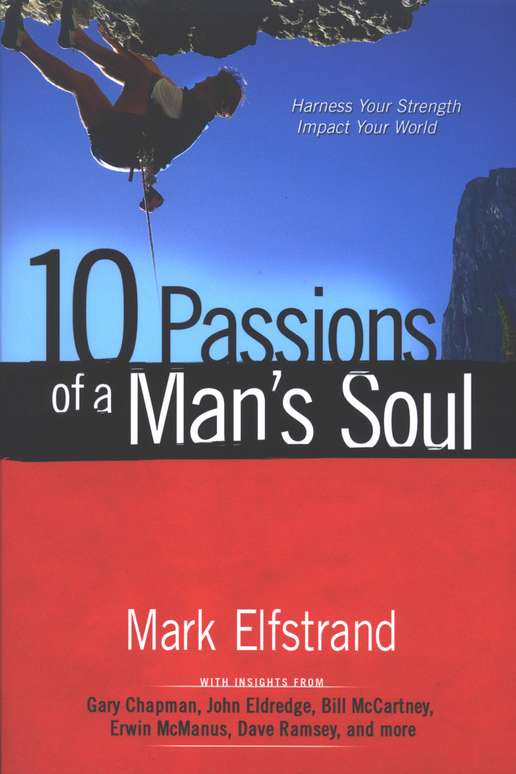 Mark Elfstrand is the Executive Producer and host of the Morning Program on WMBI-FM in Chicago – the flagship station of the Moody Broadcasting Network. His background in sales, marketing and radio programming spans more than 30 years. He is also on the organizing committee for the Chicago Executive Forum, which supports senior level executives in discussions of faith. Mark and his wife Rhonda live in Plainfield, Illinois. They have three married children.
Have something to say about this article? Leave your comment via Facebook below!
advertise with us
Example: "Gen 1:1" "John 3" "Moses" "trust"
Advanced Search
Listen to Your Favorite Pastors