The Magnificant Mystery Men
John Sweetman
Monday, December 01, 2003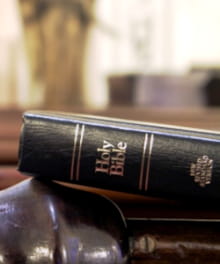 Jesus once told a little story (Matthew 13:45-46) about a merchant who spent his life dealing in fine pearls. He knew his pearls and made lots of money. But one day he came across the most magnificent pearl he had ever seen. Every other pearl paled in comparison. So he went and sold everything he owned in order to buy it. What's the good of a reasonable pearl collection when you're missing the most valuable one? The Magi were looking for the precious pearl, and when they felt they'd found it, wild horses couldn't keep them away.
So come on truth-seekers — focus on Jesus
At the heart of Christmas lies the incredible truth that the Magi only partially recognized. It's even better than they thought. That toddler, unbelievable as it seems, was actually God's Son who came from heaven to help us understand how much God cares, to set us free from our rebellion against our creator through his own sacrificial death, and eventually to judge and rule our world. Now that's a magnificent pearl of truth that's worth abandoning everything for.
But in our honest attempts at Christmas to celebrate this truth and worship God's Son, we so easily obstruct it. Offering our lives and gifts to Jesus can be obstructed by the need for buying the right presents, and Christmas carols and lights, and food and festivity. Oh there's nothing wrong with any of these things. Christmas should be a time of celebration. I love carols and presents and Christmas dinner, but they can easily be distractions.
You see these things are peripheral. They're nice pearls when there lies an absolutely magnificent pearl at the heart of our celebration. His name is Jesus. You may not have to travel across the world to honour him; you may not have expensive gifts to offer him; and you certainly don't have to talk to kings to find him. But the attitude of the Magi is one that necessarily pervades all true worshippers. We abandon our agendas and desires and priorities to offer our worship to Jesus. We focus on Jesus.
There are many people this Christmas who will celebrate a lovely local birth. They will remember a baby who was born 2000 years ago, think nice thoughts towards others, and maybe even pray for peace on earth. It will be a good Christmas for them. They will enjoy their pleasant pearls.
But there are others (including many of us here) who, as fervent truth seekers, will abandon their priorities and prejudices to offer themselves wholeheartedly to Jesus; who will do whatever it takes to put Jesus first; and who will grasp this priceless pearl with both hands. They know that every sacrifice is worthwhile, because they know they have found the truth that they have been searching for all their lives. This Christmas they will truly worship Jesus.
In doing this, we follow in the footsteps of the Magi, those magnificent, mystery men whom God brought from the other side of the world to worship King Jesus.
____________________________________
John Sweetman is principal of Queensland Baptist College of Ministries in Brookfield, Queensland, Australia.
Have something to say about this article? Leave your comment via Facebook below!
advertise with us
Example: "Gen 1:1" "John 3" "Moses" "trust"
Advanced Search
Listen to Your Favorite Pastors