The Men in Christ's Life: Joseph, Stepfather of Jesus
Kris Swiatocho, The Singles Network Ministries
Wednesday, March 14, 2007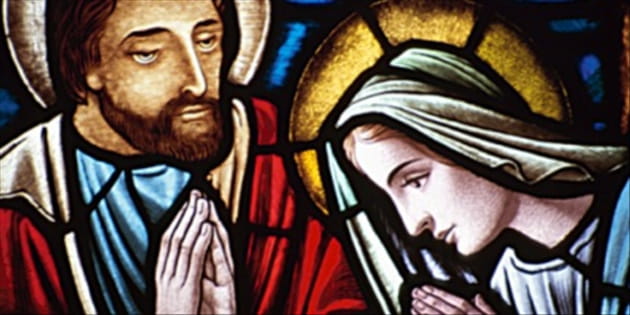 But after he had considered this, an angel of the Lord appeared to him in a dream and said, "Joseph son of David, do not be afraid to take Mary home as your wife, because what is conceived in her is from the Holy Spirit. She will give birth to a son, and you are to give him the name Jesus, because he will save his people from their sins."
— Matthew 1:20
3. Joseph has taught me about sacrifice and letting go.
When Joseph married Mary, he sacrificed what He wanted for the sake of Christ. His firstborn would not be his son. He would have to keep the secret of who Jesus was, even when it was time for his consecration, a presentation to God (a custom of that time when each family would offer their firstborn son to God). And ultimately, he would have to be willing to let Christ go when it was time. This time would come quicker than he was prepared for when Jesus went missing after a yearly trip to Jerusalem. Jesus would state "Didn't you know I had to be in my Father's house?
God entrusts our children, our parents, our siblings, our work, the earth and our possessions to us. Sometimes God wants us to be willing to let go of the things we are so desperately clinging to. Personally I recently gave up a close relationship with a family member for the sake of my ministry. Despite what my heart was feeling, I felt my obedience to God and my calling was worth more. I know God's purpose for my life is to have a relationship with Him and to glorify Him. As a result of this relationship, I am to share my life with others, the message and ministry of Christ. If this means, I leave my family, my friends, my home, etc., it is worth it for the sake of Christ.
She will give birth to a son, and you are to give him the name Jesus, because he will save his people from their sins."
— Matthew 1:21

When the time of their purification according to the Law of Moses had been completed, Joseph and Mary took him to Jerusalem to present him to the Lord (as it is written in the Law of the Lord, "Every firstborn male is to be consecrated to the Lord", and to offer a sacrifice in keeping with what is said in the Law of the Lord: "a pair of doves or two young pigeons."
— Luke 2:22-24

Every year his parents went to Jerusalem for the Feast of the Passover. When he was twelve years old, they went up to the Feast, according to the custom. After the Feast was over, while his parents were returning home, the boy Jesus stayed behind in Jerusalem, but they were unaware of it. Thinking he was in their company, they traveled on for a day. Then they began looking for him among their relatives and friends. When they did not find him, they went back to Jerusalem to look for him. After three days they found him in the temple courts, sitting among the teachers, listening to them and asking them questions. Everyone who heard him was amazed at his understanding and his answers. When his parents saw him, they were astonished. His mother said to him, "Son, why have you treated us like this? Your father and I have been anxiously searching for you." "Why were you searching for me?" he asked. "Didn't you know I had to be in my Father's house?" But they did not understand what he was saying to them.
— Luke 2:41-49
4. Joseph has taught me patience.
Joseph had to wait to be with his wife Mary intimately after she gave birth to Jesus. As a single adult, waiting for God's best is often hard to do. Whether you are waiting to one day be married or waiting for a career direction, or waiting for someone you care about to accept Christ, it is all hard to do. Joseph knew from experience that waiting is a form of obedience and obedience brings blessings.
Have something to say about this article? Leave your comment via Facebook below!
advertise with us
Example: "Gen 1:1" "John 3" "Moses" "trust"
Advanced Search
Listen to Your Favorite Pastors