The Men in Christ's Life: Joseph, Stepfather of Jesus
Kris Swiatocho, The Singles Network Ministries
Wednesday, March 14, 2007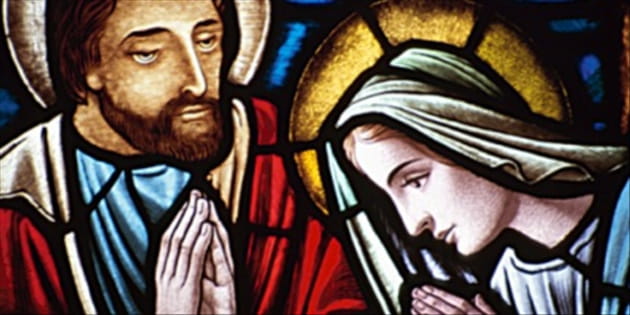 When Joseph woke up, he did what the angel of the Lord had commanded him and took Mary home as his wife. But he had no union with her until she gave birth to a son. And he gave him the name Jesus.
— Matthew 1:24-25
5. Joseph has taught me about taking a risk for Christ.
Joseph took a risk and married Mary. He took a risk despite what others might have said and done if they knew the truth. If people found out, what would he have said to defend his actions or Mary's actions? He risked their lives when they were running from Herod. Joseph was willing to do whatever it took for God, for his son, Christ. What are we willing to risk for Christ? Our possessions, our pride, our lives?
When they had gone, an angel of the Lord appeared to Joseph in a dream. "Get up," he said, "take the child and his mother and escape to Egypt. Stay there until I tell you, for Herod is going to search for the child to kill him." So he got up, took the child and his mother during the night and left for Egypt, where he stayed until the death of Herod. And so was fulfilled what the Lord had said through the prophet: "Out of Egypt I called my son."
— Matthew 2:13-15
5. Joseph has taught me about having direction.
Joseph was obedient to God and married Mary. He would then go where God would lead him. Sometimes he didn't know where they were going exactly, where they would stay or their future. He just trusted God. Folks, I believe God just wants us to trust Him for the direction in our lives. It is when we don't always know where we are going that God can use us the most. Sometime we need to just go and let God worry about the rest. This means in all areas of our lives, our relationships, our work and our finances.
So he got up, took the child and his mother and went to the land of Israel. But when he heard that Archelaus was reigning in Judea in place of his father Herod, he was afraid to go there. Having been warned in a dream, he withdrew to the district of Galilee, and he went and lived in a town called Nazareth. So was fulfilled what was said through the prophets: "He will be called a Nazarene."
— Matthew 2:21-23
6. Joseph has taught me unconditional love.
Joseph loved Mary as well as Jesus. He loved Mary despite what he thought she might have done. He loves Jesus even though he was another man's child, God's child. All of us desire to be loved unconditionally. Loved no matter what we have done in the past or in the present. Joseph shows us unconditional love. He shows us this because his example was God, who sent his son to die for us, the ultimately act of unconditional love. Christ died for us, while we are sinners.
But God demonstrates his own love for us in this: While we were still sinners, Christ died for us.
— Romans 5:8
7. Joseph, by example, has affirmed what a stepfather can be.
Joseph shows me that not all stepparents are bad, selfish or desire to separate a parent from its child. I think stepparents get a bad rap. My dad, Henry is the greatest step-dad in the whole world. He never says he has four kids, he says he has six. I have always felt his love and acceptance of me as his own child. In fact, most people unless they know me well, have no idea that Henry isn't my "real" father. Just like Joseph, Henry has always been referred to as my dad. His children are my sisters and brothers.
Philip found Nathanael and told him, "We have found the one Moses wrote about in the Law, and about whom the prophets also wrote — Jesus of Nazareth, the son of Joseph."
— John 1:45
Have something to say about this article? Leave your comment via Facebook below!
advertise with us
Example: "Gen 1:1" "John 3" "Moses" "trust"
Advanced Search
Listen to Your Favorite Pastors