A Pattern for Successful Prayer
Debbie Przybylski, Intercessors Arise
Wednesday, July 11, 2012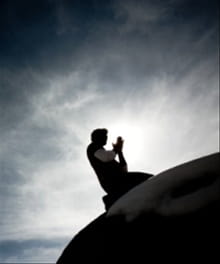 The Empowerment for Victory
But when Jehoshaphat used this pattern for successful prayer, a prophetic word came forth that empowered the people to go into battle with the singers leading. This encouragement was directly from God. He certainly took immediate notice of this type of prayer, and He strengthened their hearts with this word:
Jehoshaphat's army was led by praise. They faced the enemy singing. As I already mentioned, Judah means "Praise Yahweh". They had thanked God for the victory by faith even before seeing it. We read in2 Chronicles 20:19, "Jehoshaphat bowed with his face to the ground, and all the people of Judah and Jerusalem fell down in worship before the Lord."

The Lord set up ambushes, and the enemy was defeated. But when the praising army arrived, the enemy was already dead. God had given them a tremendous victory. They returned joyfully and with great plunder because the Lord had given them cause to rejoice over their enemies. See 2 Chronicles 20:24-26.

Are you presently in spiritual warfare?

Do you know others who are in battle who need to learn this pattern of successful prayer?

You may feel that you are in a battle that seems absolutely enormous and you may see no way through. Think about it - whose battle is it really? Who is going to fight this battle for you? Why not try this pattern for successful prayer right in the midst of your situation? Why not mentor and empower others in this method of strategic prayer? Here's how you can help yourself and others align themselves with God in prayer. And this is what you can teach the younger generation, even children. God invites you to enter into the strategic empowering of others in this type of prayer. Start with praying, "Lord, I don't know what to do but my eyes are on you."

Then spend most of your time praising God. Describe your situation to Him, but do not allow yourself to be afraid or discouraged. If you are, simply confess it to the Lord. Then ask Him to intervene for you. After you have prayed in this fashion, stand firm and take up your position (do what He says) and watch the deliverance of the Lord. Remember, He is with you - This is His battle - He is aligning Himself with you to lead you forth in victory.

"Praise causes the presence of the Lord to come into our midst. Even though God is omniscient, He manifests His authority and rule in our environment when we praise Him. When we praise, God comes in and leads us forth… He does not just visit us, but He abides and aligns Himself with us to walk with us into the path that He has chosen for us." -Chuck Pierce
Together in the Harvest,

Debbie Przybylski
Intercessors Arise International
International House of Prayer (IHOP) KC Staff
deb@intercessorsarise.org
http://www.intercessorsarise.org
Publication date: July 11, 2012
Have something to say about this article? Leave your comment via Facebook below!
advertise with us
Example: "Gen 1:1" "John 3" "Moses" "trust"
Advanced Search
Listen to Your Favorite Pastors