A Steadfast Spirit in Prayer
Debbie Przybylski, Intercessors Arise
Friday, June 14, 2013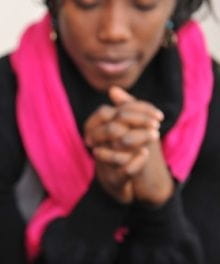 I have noticed in my life that after I have gone through an especially enduring season of warfare, God brings a breakthrough and increases the anointing in my own personal life. I look back and see the grace of God that carried me through. The battle has to do most often with taking thoughts captive in prayer and believing God for breakthrough. Satan does not like prayer. Standing strong in perseverance is a daily task, but God's grace has been sufficient. If you are involved in prayer, I am sure you can identify. Battles make us strong, firm, and steadfast. We read this in 1 Peter 5:10:
"And the God of all grace, who called you to his eternal glory in Christ, after you have suffered a little while, will himself restore you and make you strong, firm and steadfast."
The Call for a Steadfast Spirit
"Oh, that my ways were steadfast in obeying your decrees!" (Psalm 119:5)
Let's never think that we are the only one going through warfare and needing a breakthrough. All of God's people who have been used by Him have come face-to-face in confrontation and warfare in the area of taking thoughts captive through prayer. Everyone has had to learn to be steadfast. It's inevitable.
The famous revivalist, John Wesley, was steadfast in difficulty. Imagine the thoughts that the enemy must have shot into his mind when he was facing rejection and defeat. You probably never knew this about his life. Look at the breakthrough he experienced when he had a steadfast, persevering spirit and continued to trust God. A page from his diary reads as follows:

• Sunday morning, May 5 - Preached in St. Ann's, was asked not to come back anymore.
• Sunday p.m., May 5 - Preached at St. John's, deacons said, "Get out and stay out."
• Sunday a.m., May 12 - Preached at St. Jude's, can't go back there either.
• Sunday p.m., May 12 - Preached at St. George's, kicked out again.
• Sunday a.m., May 19 - Preached, deacons called special meeting and said I couldn't return.
• Sunday p.m., May 19 - Preached on the street, kicked off the street.
• Sunday a.m., May 26 - Preached in meadow, chased out of meadow as a bull was turned loose during the services.
• Sunday a.m., June 2 - Preached out at the edge of town, kicked off the highway.
• Sunday p.m., June 2 - Afternoon service, preached in a pasture, 10,000 people came to hear me.
Wouldn't you have felt like giving up if you were John Wesley? Look at what God did through His life because he persevered!
All inventors have to be extremely steadfast. Thomas Edison who invented the light bulb said, "Genius is one percent inspiration and 99 percent perspiration." Did you know that the first electric light was so dim that a candle was needed to see its socket? Wilbur and Orville Wright's first airplane flight lasted only twelve seconds. One of the first steamboats took 32 hours to go from New York to Albany, a distance of 150 miles. The first automobile traveled two to four miles per hour and broke down often. But look at what these inventions can do today. These inventors had to believe in breakthrough in the face of great endurance and difficulty.
Perhaps you are going through a challenging time when the devil is relentlessly attacking your mind. You know that you need to be steadfast and persevering, but it's difficult. The enemy tells you, "You're a failure. You'll never make it. You might as well give up." These are merely lies and the strongholds of the enemy. The warfare seems intense, and you need a breakthrough that only God can give.
Have something to say about this article? Leave your comment via Facebook below!
advertise with us
Example: "Gen 1:1" "John 3" "Moses" "trust"
Advanced Search
Listen to Your Favorite Pastors