Clay on the Potter's Wheel
Debbie Przybylski, Intercessors Arise
Monday, March 18, 2013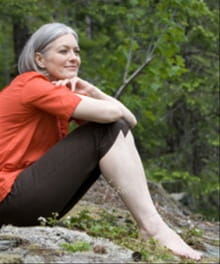 Jeremiah obeyed and went down. He saw the potter working on the wheel. The Hebrew word for wheel implies two wheels (dual form). Potters typically used a device with a lower stone wheel fastened on a vertical shaft with a small wooden wheel above. The potter would sit turning the large stone wheel with his feet while shaping the clay on the small wooden wheel. To express verse 4 with the meaning of the Hebrew verbs, "Whenever the pot he was shaping was spoiled, as happens with clay in the hands of the potter, he would remake it into another vessel, shaping it as seemed best to him." Spoiled, marred, ruined vessels were not tossed aside and discarded in favor of those that emerged perfect. They were remade! God can mend cracked pots!
We often try to thwart the purpose of the potter. The clay often presses against the potter's hand as it goes around. The potter controls the opposing force with pressure if he wants a useful pot. God kneads, pushes, presses and pulls us into shape, but He never throws us away. He says to Israel in verse 6, "O house of Israel, can I not do with you as this potter does?" Isn't this what He says to us as well? Can we not say, "Yes, Lord. Form me into Your image. Do whatever it takes. I want to be like you!"
Shaped by the Hand of God
"Yet, O LORD, you are our Father. We are the clay, you are the potter; we are all the work of your hand (Isaiah 64:8).
There are things we must practice as we are being shaped by the hand of God. There are ways we can get the greatest benefit out of these times of refinement. This is the time to trust completely in God for He knows exactly what He is doing. He is making you into a masterpiece for His glory. Learn to trust Him day by day. Remember that you are in the potter's hands - God is working at the wheel of your life in every detail. Let's look at some of the ways to cooperate with God:
Look at your hands - They are not just alien objects but are attached to a person who thinks, feels, and chooses. The actions of our hands have a purpose. In the same way God's hands are not just instruments in the universe, things that just happen, but they are attached to a loving God who cares, weeps, feels, has compassion, is intimately involved, and chooses the best for you. Trust Him and rely on Him during times of testing. God is maturing you for a purpose.
Listen to what you are telling yourself - We tell ourselves messages as we live out our life. What messages are you telling yourself? Believe the truth and speak the truth rather than the enemy's lies. See Isaiah 45:9 and the following:
Romans 9:20: "But who are you, a human being, to talk back to God? "Shall what is formed say to the one who formed it, 'Why did you make me like this?'"
Isaiah 29:16: "You turn things upside down as if the potter were thought to be like the clay! Shall what is formed say to the one who formed it,
'You did not make me'? 
Can the pot say to the potter,
'You know nothing'?"
Ask yourself, "Do I know the hands that are forming me? - Remember, God is your good shepherd. Meditate on Psalm 23.
Psalm 23: "The LORD is my shepherd, I shall lack nothing. He makes me lie down in green pastures, he leads me beside quiet waters, he restores my soul..."
Obey God and walk in repentance - Let Him touch every area of your life. Repent of weaknesses as He brings them to the surface.
Hold onto God and His Word - He will carry you through. Don't hurry along the process, but learn to cling to Him and His Word. Hold onto the promises in the Bible. Look at how other Bible characters were being shaped by God through their life experiences (Moses, Joseph, David, Elijah).
Learn to wait on God and pray persistently - Cry out to Him and wait for Him. He knows exactly what He is doing.
Watch your attitude - Thank Him for the character He is developing in your life. Don't give up or complain. Recommit yourself to Him and what He is doing in your life. Commit yourself afresh to God's plans and purposes. Remember, He is making you into a masterpiece for His glory.
Love God for who He is - Learn to be a lover of God for Himself and not what He can give you. Worship and praise Him throughout the day.
Let's be like Evan Roberts who was instrumental in the Welsh Revival who cried out to God, "Bend us!" Bend your church!" May we be pliable and so easily moldable in God's hands. Is God not saying to us as He said to Israel, "O house of Israel, can I not do with you as this potter does?"
Have something to say about this article? Leave your comment via Facebook below!
advertise with us
Example: "Gen 1:1" "John 3" "Moses" "trust"
Advanced Search
Listen to Your Favorite Pastors