God's Watchmen
Debbie Przybylski, Intercessors Arise
Tuesday, April 03, 2012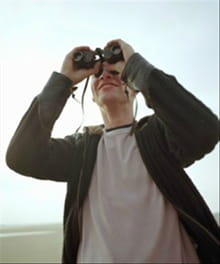 "Intercessors have strategic assignments in their prayer closets. The prayer closet is like those ancient watchtowers. From there, they can scour 'the spiritual horizon' like air traffic controllers. They often sense spiritual things discerning the good from the bad, the welcome from the unwelcome. In prayer, God sometimes exposes the enemy's plans and shows the intercessor 'the cards that Satan is holding.'"
--Eddie and Alice Smith
If ever there was a need for watchful prayer, it is now! We need to be watchful, especially as we see major changes happening worldwide on a weekly basis. Many of us watch the daily news to see in the natural what is happening, but God wants us to watch and see spiritually what is occurring on the earth. It is time for all of us to get our lives in order before the Lord, become watchful in prayer, and find our position as God's watchmen on the watchtower.
Intercessors are front-line soldiers.
They see into the distance, observe what is happening, and lean forward in prayer. Sometimes they see with eyes of discernment, and at other times they may see things way in advance. God gives them insight in order to intercede. The Greek word for "watch" means, "to be vigilant, wake, to be watchful." Jim Goll, well-known author, speaker and intercessory leader, says:
"A watchman on the wall does many things. He carefully watches what is happening and alerts the community when good ambassadors approach the city. … A watchman also warns the city far in advance when an enemy approaches. He sounds an alarm to awaken the people because he knows 'to forewarn them is to alert and arm them.' Then they quickly can rally to take their stand on the wall against the enemy before he wrongfully tries to enter into the city."
What does watching mean for you personally?
What does God want you to concentrate on during prayer and intercession?
For what has He given you discernment or a burden?
It may be your school, neighborhood, city, nation, or a particular people group. This is where we need to watch and pray. When we see danger coming, we pray and ask others to pray. We cry out to God to bring salvation, deliverance and make His name known. We pray against evil intruding in the area where we are keeping watch. We say "no" to the powers of darkness in Jesus' name. We pray for God's peace instead of fear, for life instead of death, and for hope instead of hopelessness.
At the same time, all of us need to be on the alert and pray diligently for the nations. For many years we lived on a ship that brought the light of the Gospel to various nations. Every hour of every day watchmen had to be on duty. These watchmen kept alert to any possible dangers that might come toward our ship -- dangerous weather, thieves, fire, and other possible threats to our safety. During their watch, they stayed alert. They knew that being a watchman was a serious responsibility.
You and I must be vigilant as a watchman for our nation. Although we may get weary and tired, we have a responsibility. We are called to pray for our president, prime minister, or king. We are on watch. We read in Matthew 26:41,"Watch and pray so that you will not fall into temptation. The spirit is willing but the body is weak." In Isaiah 62:6-7 the Bible speaks of watchmen on the walls of Jerusalem:
"I have posted watchmen on your walls, O Jerusalem; they will never be silent day or night. You who call on the Lord, give yourselves no rest, and give him no rest till he establishes Jerusalem and makes her the praise of the earth."
Have something to say about this article? Leave your comment via Facebook below!
advertise with us
Example: "Gen 1:1" "John 3" "Moses" "trust"
Advanced Search
Listen to Your Favorite Pastors