Prove God's Existence Beyond a Reasonable Doubt
Whitney Hopler, Live It Editor
Monday, October 30, 2006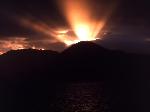 * Explain how design is no accident. Consider the amazing complexity of all matter. Discuss evidence of design uncovered by discoveries in scientific areas such as genetics, biology, anatomy, physiology, botany, chemistry, physics, geology, and astronomy. Point out that, despite many attempts, humans can't create – only God can bring something into existence from nothing. Talk about the lack of evidence in the fossil record to support evolution, and the many holes that have been found in Charles Darwin's theory since he first proposed it. Recognize that, just as a watch can't simply appear without having been made by a watchmaker, living creatures couldn't have just appeared without having been designed.
* Explain how every effect has a cause. Discuss the reality that something can't come from nothing – it must have had a cause. Understand that since science has determined the universe is not infinitely old, it must have had a beginning, and therefore, a cause. Talk about how time, space, and matter were caused, and consider how doing so would require more than just a mechanical cause like a chemical reaction. Consider how such an act would require a volitional cause, and how it's logical that a higher being – God – created the universe for a purpose.
* Explain the evidence from contingency. Point out that everything in this world is dependent on (contingent on) other things to function. Consider how the whole world couldn't have come about gradually because so many different components depend on each other. Show that it makes no more sense to argue that contingent things (such as hydrogen atoms) created the universe than it does to suggest that your arm made your body. Recognize that, in order for humans (who are contingent beings) to exist, there had to be a being who is not contingent and who is responsible for bringing all contingent beings into existence. Show how that points toward an eternal God.
* Explain how miracles display God's work. Understand that if evidence indicates any miracles have taken place in the course of history – and plenty have – then God must exist, because He is the only one who could break natural laws to cause a miracle. Consider how all creatures must live within the bounds of natural laws, but God (the Creator) is beyond them and able to change them if He chooses to do so. Talk about miracles you've either experienced or heard about, and how they show God at work in the world.
* Explain that consciousness delivers a wake-up call to believe. Consider the lack of evidence that anything conscious can be derived from something that is not conscious. Discuss how science hasn't been able to answer the question of how humans' and animals' brains – mere masses of organic matter – became conscious. Realize that, since atoms are not conscious, consciousness needed to somehow become introduced into the cosmic system. Talk about how a conscious being like God must have thought of and created consciousness.
Recently on Spiritual Life
Have something to say about this article? Leave your comment via Facebook below!
advertise with us
Example: "Gen 1:1" "John 3" "Moses" "trust"
Advanced Search
Listen to Your Favorite Pastors