Skipping & Tripping: Two Takes on 1 Thessalonians 5
Laura MacCorkle & Shawn McEvoy, Crosswalk.com Senior Editors
Tuesday, June 28, 2011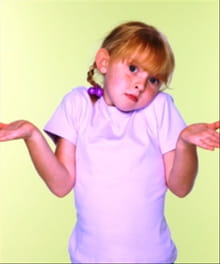 But what about when you've had a week like I just did? How are you supposed to live like this?
I can do everything through him who gives me strength (Phil. 4:13).
That's the key. God, through the indwelling of the Holy Spirit, is the one who powers me and helps me to live in this way. And this is the kind of living that God wants for his children. It is his will for us, not our own. And it is that which is pleasing to him.
Please don't skip over 1 Thessalonians 5:16-18 like I have a habit of doing. Let it cause you to pause and take some time to assess your current attitude. What is it-or who is it-that's got you not joyful, not praying and not giving thanks? Ask the Lord to soften your heart and change your attitude. He doesn't want to skip over you. And if you are willing, through YOU he can work wonders!
***
God's Will: So Simple it's Hard
by Shawn McEvoy
"God's will for my life"... how often have you pondered that notion? Studied it? Read untold books about it? Know people who torture themselves trying to locate it?
Well, here we have an obvious chunk of it, even compact and useful just as we like things to be, tucked away at the close of Paul's first letter to the church at Thessalonica. "This is God's will for you...," it says.
Well, yes, it says that, and it sure is pretty - almost poetic - but is it deep enough? Shouldn't there be more? Is it practical?
Okay. Then let's go Old Testament. Prophetic. Action-oriented. Micah 6:8 says, "He has told you, O man, what is good; And what does the Lord require of you but to do justice, to love kindness, and to walk humbly with your God?"
It's still simple, still bunched in a group of three, still indicating that there's no big mystery way far out there which must be solved before we know how to act or decide, or how God wants us to act or decide.
So why do we seek for more?
I think it's because the ridiculously simple, paradoxically enough, is ridiculously hard, and we know it. G.K. Chesterton famously said, "The Christian ideal has not been tried and found wanting. It has been found difficult and left untried."
We could spend a lot of time discussing the ins-and-outs of how easy or hard God's will is, and where else in His Word we can find snippets of it. One woman from my Bible fellowship class is fond of asking during our lessons, "What does that look like?" Let's ponder on that for a minute here.
The situation is this: you've been sent on a mission trip via a clear calling from God. The resources were there, the people willing. You are leading your group through a city when you encounter a psychic who keeps taunting you. After a while, through calling on the name of Jesus you cast out the evil spirit within her. Hooray! Score one for the Lord, and your group! But alas, there is no praise here, because those who had been making some cash off the now-set-free woman's powers aren't happy with you. They drag your group before local law enforcement, have you beaten, and thrown into prison. Hey now!
At this point, I am saying, "God, this is NOT your will. YOU made it very clear we were to come on this trip, and we even did a miracle for you! Now we're injured, in jail... I don't even know how I'm going to get home much less continue to be effective for you from here! I want a telephone, I want a lawyer, and I want you to reveal your ACTUAL will, right now, and suffer no more discomfort while doing what you sent us to do!"
And with that, my missionary journey would come to a close. But not the Apostle Paul's, not as we have it recorded in Acts 16:16-40, which is one of my all-time favorite passages. Paul, who knew God's will better than I, and practiced it, knew to "rejoice always." And so, bloodied and with his feet in stocks, he sings. Seriously, he sings hymns of praise. He also knew to "pray without ceasing," and so, in verse 25, that's exactly what you find - Paul and Silas praying... at midnight, even.
Recently on Spiritual Life
Have something to say about this article? Leave your comment via Facebook below!
advertise with us
Example: "Gen 1:1" "John 3" "Moses" "trust"
Advanced Search
Listen to Your Favorite Pastors