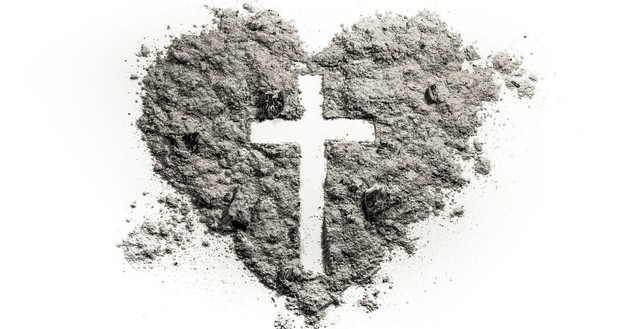 I didn't grow up observing Lent or Ash Wednesday, and I can't claim to have ever worn a cross of ashes on my forehead.
I have observed St. Valentine's Day in both romantic and quasi-religious, love-honoring ways (once legendarily), but for the most part find it to be a phony distraction, a fake holiday, a tiny boost to the mid-February economy.
This year, however, when Valentine's Day and Ash Wednesday fell on the same day I thought, "This suddenly makes a whole lot of sense to me; can we do this every year (instead of, say, setting Easter by the phases of the moon or somesuch)?"
Because I'm not here today without the knowledge that, "The Lord God formed a man from the dust of the ground and breathed into his nostrils the breath of life" (Gen. 2:7).
Because I'm not seeking wisdom without knowing my own mortality, that my body's destiny is to return to that state, "for dust you are and to dust you will return" (Gen. 3:19).
Because the perfect plan of the Crucifixion and Resurrection does not happen unless "God so loved the world that he gave his one and only Son, that whoever believes in Him shall not perish" (John 3:16).
Because that love is the same Source of all love, this inexplicable force that the Scriptures equate with God Himself and which the doubters of the faith are at a loss to explain the existence of, particularly in its sacrificial forms.
Because it is biblical to simultaneously consider the immensity of God's love for his people, that he gives his people the ability and desire to love each other with the same bond He has with His church, and that His church must exist in a world of flawed, fallen, ashy people who do not always love God in return. Therefore, "put a mark on the foreheads of those who grieve and lament over all the detestable things that are done" (Ezek. 9:4). (No, I don't think the New Testament Church is called to do this literally, but whether you do it physically or metaphorically, it is spiritually rewarding to contemplate all this at once).
Because though we may or may not seek to seriously "give something up" for Lent, the merger of these two holidays gives us a unique opportunity to know that it was only perfect love that gave everything up for us, that casts out our fears, that heals our wounds and sicknesses, that makes a path through the darkness, that means the grave is not The End.
May your forehead of contemplative ashes be surrounded by a heart today. May your Valentine's Card be dusted with reminders of just how wide, deep, self-sacrificial and all-encompassing love truly is.
--shawn
If you're curious to know where I gathered up the verses for today's thoughts, check out BibleStudyTools.com, where we've got topical verses for just about everything. We've compiled our favorite Ash Wednesday Bible Verses for you. As you dig deeper into the Word and face your sorrows, realities and deliverance in the time leading up to the Resurrection, may your time of reflection and remembrance be blessed! And feel free to follow along with us as we learn and grow with our collection of Easter Devotionals.
And for more on the convergence of Ash Wednesday and Valentine's Day, check out this great piece by BreakPoint's John Stonestreet.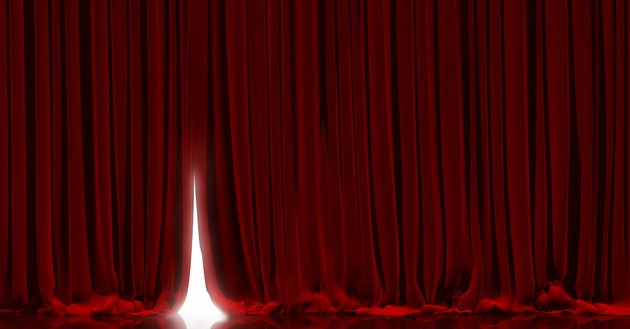 We at Crosswalk are both sad and excited to announce that as January 2018 ends, this marks our final movie reviews of the traditional variety.
After providing Christian-written movie reviews and Cautions lists for most theater-released films for much of this twenty-first century, Crosswalk.com will be taking a new approach to entertainment coverage.
All that's going away is a standard review format from an experienced critic, and a commitment to cover nearly every movie Hollywood produces.
What will remain is a clearer focus on informing our audience about:
We can't thank you enough for your readership over the last thirteen years that most of us have been involved writing and editing these reviews. We've learned that the audience whom requires standard reviews of theatrical releases is well served by several other fine sites in the Christian web space.
We look forward to serving your entertainment needs in a method more suited to our strengths for years to come!
~Ed.
P.S. Before you go, be sure to check out our final edition of CROSSWALK.COM'S TOP 10 MOVIES OF THE YEAR. We've had a blast over the years putting this piece together, and much more so knowing this would be our final one (at least, if we ever do the project again, it'll look much different).
P.P.S. As regards your subscriptions to our movie-related newsletters, we'll be making the following changes and offering the following alternatives: 
We'll be showcasing all of the above bulletpoints weekly in our Faith & Pop Culture newsletter, which we'd like to offer you as an alternative to our Films & Faith newsletter, which was mostly about reviews of theatrical releases, and will be discontinuing.
Our "New on DVD / What to Watch at Home" newsletter will, going forward, feature information weekly on a faith-based film you may have missed that you can now catch at home.
Please let us hear from you about other ways we can meet your requests for pop culture content!
Sincerely,
The Crosswalk.com Editors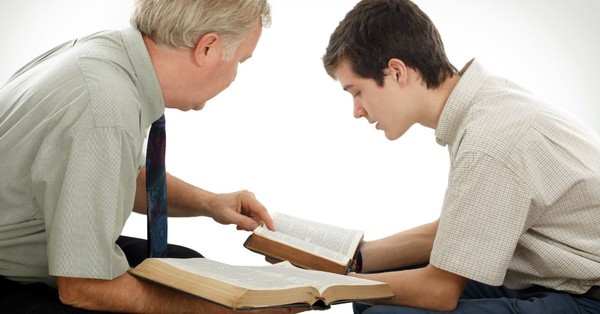 For several years now, I've tried to meet once a week with each of my kids for what we call our Discipleship Sessions. But now that one of them's a teenager and the other one sure seems like it, I began looking for ways to really make our times more meaningful than just going to Starbucks or Panera with Dad before school. I wanted to do something to make our times more consistent, more impactful, more scheduled, and more memorable.
That was the birth of the form you see here, which began in a much more rudimentary style of 3-hole-punched pages the kids could keep in binders, until I asked our Design Editor Rachel Dawson to improve upon the layout.
Today, in our Inside the Editor's Room podcast, we discussed the topics of teenage spiritual growth, mentoring and discipleship, so I shared the successes my family has had with this form. Feel free to print it off, send it around, or customize it to meet your own needs for important times with your kids!
For us, it was important that each session cover about 45 minutes to one hour, and involve the following: readings in a book by a Christian author, Old Testament reading, New Testament reading, a devotional (either from one of the many devotional books they own, or maybe even one Dad has written for the Crosswalk devo), time to freely talk about anything, prayer requests, and, yes, HOMEWORK (in the form of next week's readings, a memory verse, and a service or evangelism opportunity to be done during that week).
It's worked so well for us, this format. It keeps us looking forward to meeting, keeps us targeted, gives us something to look back on as well.
I pray that you can find a time with your kids during the week to read God's Word and talk/listen about the important things in life! Let me know if you can make any use of this printable form, and what other things might have worked well for you!
Blessings,
shawn
PRINTABLE DISCIPLESHIP FORM HERE
Publication date: May 25, 2017
Image courtesy: ©Thinkstock/georgemuresan