Temptation: The Hardest Test You Will Ever Take
Marvin A. McMickle
Friday, April 01, 2005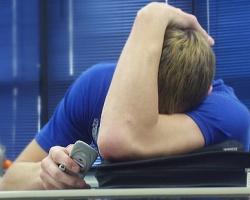 It was important for Jesus to pass these tests of attitude and aptitude. Nothing less than the power of sin was hanging in the balance. Remember that in the Garden of Eden sin crept in and took control of the human family because Adam and Eve failed both of these exams when they were tested by Satan. They failed the attitude test of character when they ate from the one tree in the Garden that God told them to avoid. They failed the aptitude test of knowledge, because it was clear from the story that they knew perfectly well what God had said. However, having the words of God ringing in their ears, those words did not have enough power to restrain their behavior.
Two portions of scripture rush to mind right now. The first is 1 Corinthians 15:22 that says, "For as in Adam all die, so also in Christ shall all be made alive." The sin that first gripped us like a vice came because one man failed his test. That grip was finally broken when another man came along and faced that same test but passed it with flying colors. We can live free from the power of sin and Satan. We cannot avoid being tempted, but we can avoid giving in to those temptations by the power of Christ who will equip us with the right attitude and the right aptitude.
That brings me to the second text and my last point. In Hebrews 4:15 it says, "For we do not have a High Priest who cannot sympathize with our weaknesses, but was in all points tempted as we are, yet without sin." Every temptation you ever felt, Christ felt also. Every passion that ever burned within you burned within Him also. He knows what it is like to live with the devil on your trail, because that was His experience as well. But here is the one thing that distinguishes us from Christ: He was tempted yet did not sin. He had the power to hold out. He has the strength to stand firm. He had the knowledge to resist. He had the character to overcome the devil. And if we just turn to Him and put our faith and trust in Him, He will help us accomplish the same thing and pass the tests of attitude and aptitude. That is why the hymn writer says:
We are our heavenly father's children,
And we all know that he loves us one and all.
Yet there are times when we find we answer
Another's voice and call;
If we are willing, he will teach us,
His voice only to obey no matter where,
And he knows, yes he knows
Just how much we can bear.
Tho' the load gets heavy,
You're never left alone to bear it all.
Just ask for strength and keep on toiling,
Although the tear drops fall.
You have the joy of this assurance,
Our heavenly Father will always answer prayer;
And he knows, yes he knows
Just how much you can bear.
_______________________
Marvin A. McMickle is Senior Pastor of Antioch Baptist Church in Cleveland, OH.
Recently on Spiritual Life
Have something to say about this article? Leave your comment via Facebook below!
advertise with us
Example: "Gen 1:1" "John 3" "Moses" "trust"
Advanced Search
Listen to Your Favorite Pastors