The Satanic Influence
Ray Comfort, The Way of the Master
Friday, September 03, 2004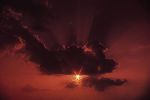 Look at the covers of magazines in bookstores and supermarkets. They are "soft-core" pornography, which a few years ago was considered hard-core and hidden from young eyes. Think of video games that kids crave--they are extremely violent and sexually perverted. Think of most rock music, with its explicit sexuality, its blasphemy, and its dark Satanic side. Consider the Internet's multi-billion dollar hard-core porn industry, or how the average person uses filthy words and blasphemy in every day speech. Life in the dirty pigsty is normal, natural, and completely acceptable.
Yes, Satan is the god of this world, and he has deceived millions. But his deception hasn't stopped there. It has moved into the Church. Despite what the Bible says, that Satan is real, that he's a deceiver, and the god of this world who blinds minds, look at what has happened--according to the Barna Research Group:
In 2004, an incredible 50% of those who profess to be "born again" actually deny Satan's existence.
That's unbelievable! Despite the revelation of Scripture, 50% of those who profess to be born again actually deny Satan's existence. And the scary thing about denying Satan, is that if you deny that he exists, you let your guard down--you let him bring in deception. The place to corrupt the Church is at the point of entry... to poison evangelistic message that brings people into the Kingdom of God.
That's what has happened. We haven't been vigilant. We have allowed Satan to contaminate the biblical method of evangelism. We have allowed certain "ministers of righteousness" within the Church to move away from Scripture. They refuse to use the Law (the Ten Commandments) to bring the knowledge of sin (as Jesus did), and show sin to "be exceedingly sinful." This is despite the fact that even the Apostle Paul said that he didn't know what sin was without the Law. They say that they have found a shortcut to bring people to salvation. They leave out the Law and instead take the prodigal back to the father, without showing him that his appetites are unclean.
Remember that in the story Jesus told, the prodigal "came to his senses" when he realized that he desired pig food. That's what made him want to go back to his father and say "I have sinned against heaven and in yours sight, make me your hired servant." In the name of sensitivity, modern preachers don't let that happen. They shortcut that process. So instead of the professed convert saying to the Father "I have sinned against Heaven. Make me your servant," he goes to God and says, "I have run out of money. Give me some more. You be my servant."
And that's what's wrong with the modern church. It is filled with unconverted people who have never seen that their sinful appetites are unclean. Modern preachers have left out the Law, and so we have multitudes in pulpits and in pews who don't see sin as exceedingly sinful. So they look on God as their servant. Instead of saying, "Make me your servant," they say "Give me more!"
Aleister Crowley (who died in 1947), is considered to be the father of modern Satanism. In his publication called, The Book of the Law, he sums up the essence of Satanism. It is: "do what thou wilt shall be the whole of the Law."
And that sums up the desires of many who profess to have faith in Jesus Christ. Their lack of concern for the lost shows that something is radically wrong. They have never given up their selfish will, and cried, "Not my will but Yours be done." They have never sought to serve God by doing His will by reaching out to the unsaved.
Recently on Spiritual Life
Have something to say about this article? Leave your comment via Facebook below!
advertise with us
Example: "Gen 1:1" "John 3" "Moses" "trust"
Advanced Search
Listen to Your Favorite Pastors