Do You Yearn for Meaningful Friendships?
Tracy Klehn, Author, Growing Friendships
Friday, November 30, 2007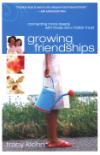 Friend: One attached to another by affection or esteem.
To the Ancients, Friendship seemed the happiest and most fully human of all loves; the crown of life and the school of virtue.
—C. S. Lewis
Flowers can brighten up a room and put a smile on your face. They can also be expensive if you are the one purchasing them. For most people, flowers are an "extra" and not a "must have." That is to say that if you're low on cash, or you're a starving student, buying your­self a bouquet of flowers might be a little farther down on your list of priorities than say, Krispy Kreme donuts (the real "must have").
So if flowers are not necessarily needed for survival, what is their purpose? They make life more beautiful with their vibrant colors and heady aromas. Perhaps they even remind us of a certain person or a certain place, or they represent an expression of love, sympathy, or encouragement.
In The Four Loves, C. S. Lewis writes: "Friendship is unnecessary, like philosophy, like art, like the universe itself (for God did not need to create). It has no survival value; rather it is one of those things which give value to survival."
I used to have a hard time enjoying the flowers my husband would bring me. Not because I didn't think they were lovely, and not because I didn't appreciate his thoughtfulness. I had a hard time because I felt it was too extravagant to spend money on something that was just going to last a few days and then die. So my husband started planting flowers for me outside, flowers that we could keep, grow, and enjoy. Unfortunately, these plants have all died a slow death.
It is somewhat ironic, then, since flowers are not my forte and I am by no means a gardener, that the symbolism I would choose to use in this book is that of a specific flower—the daisy. While there may not be anything growing in my front yard, there are some gorgeous blossoms in my life. The flowers that I love to look at any time of the day or night, the flowers that I love to grow with, nurture, and enjoy, are the daisies that I call my girlfriends.
Daisies sure are cheerful little flowers, aren't they? They seem to show up everywhere ... on hillsides, by streams, in gardens. The generic name for the daisy is actually bellis, which is derived from the Latin for beautiful. Daisies are indeed beautiful, and they are easily recognizable. Likewise, most people have seen or heard of a daisy chain, which is a handful of these cheerful flowers strung together in a row.
When I think of friendships, I think of these daisy chains. I think of friendships as gathering the individual flowers that are in our midst and connecting them to make something even lovelier.
When it comes to friendship, I do not believe that we scatter a few magic beans (like Jack, for his beanstalk) and grow ourselves a circle of friends. We are not the ones who grow friends. God is the Master Gardener. Isaiah 60:21 says, "They are the shoot I have planted, the work of my hands, for the display of my splendor" (emphasis mine).
So then, what is our responsibility with regard to friendship? I believe that we have the choice to connect with the beauty that God places in our lives. We have the choice to receive the gift of friendship and to invite others to do the same by extending our hearts to them. God invites us into His garden and allows us the opportunity to adorn our lives with a crown of friends.
Friendship is the crown we wear that communicates to God and to the world that we are receiving the love that He has provided for us.
You shall also be a crown of glory in the hand of the Lord. (Isaiah 62:3 nkjv)
In doing a little research on daisy chains, I stumbled onto a sweet article entitled "How to Make a Daisy Chain." As I read it, I realized that making a crown of daisies is very much like developing a crown of friendships. The author describes this process in verb form—"to daisy chain." I love this because I believe the process of developing and deepening friendships is an action. We are "growing friendships"; they don't just happen to us. We are active participants.
Have something to say about this article? Leave your comment via Facebook below!
advertise with us
Example: "Gen 1:1" "John 3" "Moses" "trust"
Advanced Search
Listen to Your Favorite Pastors