Forget the Past and Press On to What's Ahead
Karol Ladd, Author
Tuesday, March 13, 2012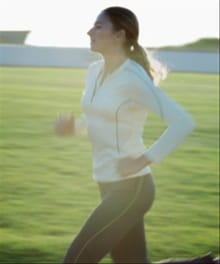 Not that I have alrerady obtained all this, or have already been made perfect, but I press on to take hold of that for which Christ Jesus took hold of me. Brothers, I do not consider myself yet to have taken hold of it. But one thing I do: Forgetting what is behind and straining toward what is ahead, I press on toward the goal to win the prize for which God has called me heavenward in Christ Jesus (Philippians 3:12-14).
Looking Forward
Wilma Rudolph could have given up many times the pursuit of her dreams. As the twentieth child of twenty-two kids in her family, she was born in 1940 with polio and also suffered bouts of pneumonia and scarlet fever. Although some said she might never walk, Wilma's loving family worked hard to make sure she received the medical treatment and physical therapy she needed. Wilma started wearing a leg brace when she was five years old. One day at age 11, she decided she had enough of the leg brace, and so she took off the brace and walked down the aisle at church, never to wear it again. When she was 13, Wilma became involved in basketball and track at school. Her running improved to such an extent that she began winning races, and she was invited to a training camp at Tennessee State. There she trained with Ed Temple, who became one of the most influential persons in her life.
In 1956, as a sophomore in high school, Wilma competed in her first Olympic Games in Melbourne, Australia. Although she did not place in her 200 meter competition, her relay team earned the bronze medal. Wilma's persistence and enthusiasm led her to train even harder. She went back to the Olympics in 1960, having already broken a world record in the Olympic trials in the 200 meter. At the Olympics in Rome, she became the first American woman to win three gold medals (100 meter dash, 200 meter dash, and 400 meter relay) and was honored in her hometown's first racially-integrated parade. Wilma went on to receive numerous honors and awards, including the Sullivan Award for amateur U.S. athletes and induction into the Black Sports Hall of Fame, the U.S. Track and Field Hall of Fame, the U.S. Olympic Hall of Fame, and the National Women's Hall of Fame.
Wilma worked her way through college and eventually became a coach and a teacher, but her greatest pride and joy were her four children. Wilma's story has inspired thousands of others to persevere through trials and pursue their dreams. She could have given into discouragement many times, but instead she didn't look back; she looked forward. She pressed on with determination to win the gold. She didn't use her challenges from the past as an excuse to hold her back from achieving her goals.
Often it is our past that plays a big part in our sense of defeat in life. We can become gripped with memories of failures from the past, or we can become stifled by earlier mistakes. Hurts, pains, and disappointments can grow into bitterness, anger, and frustration and serve to keep us on the bench rather than in the game. Paul recognized the importance of letting go of the past and leaning in toward what is ahead. He needed to do it in his own life, not only to forget the regrettable things he had done (like persecuting the church) but also to let go of the pride of the accomplishments he had achieved in the past. Either one would slow him down.
One of the disciplines every sprinter is taught early on in training is to never glance back at competitors during the race. This one simple move can slow her down and cause her to miss out on winning the race. In the same way, we must keep our focus forward and on the goal of knowing Christ and growing in Him. We must relinquish the power that the past holds on us, let go of the past hurts, defeats, embarrassments, mistakes, and even the past accomplishments in which we may tend to wallow. Living with our eyes looking back will only discourage us and trip us up. We are told in Scripture to look back at one thing, and that is the goodness of the Lord and what He has done for us.
Have something to say about this article? Leave your comment via Facebook below!
advertise with us
Example: "Gen 1:1" "John 3" "Moses" "trust"
Advanced Search
Listen to Your Favorite Pastors