God's Not the Silent Type
Cindi McMenamin, Author
Thursday, September 22, 2011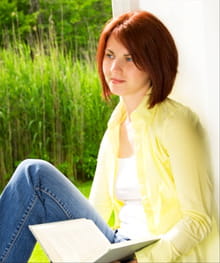 Is this something that provides peace and healing?
Is this within the nature of God?
Can this be backed up by Scripture or the affirmation of godly people?
I can recall many people God has spoken through to get a message across to me during various stages of my life. During my college years, my cousin gave me some timely words in a gentle way that really made me think about how I was coming across to others. Then God spoke through my youth pastor who confronted me from time to time about aspects of my character that could cause me heartache later on in life. Sometimes God speaks to us through others to convict us, reprove us, encourage us, or direct us. When He does, and we have tuned our hearts to listen, we will feel a sense of peace and rightness about what was said, even if the words are painful to hear.
God Speaks through the World He Created– Psalm 19:1-2 says, "The heavens are telling of the glory of God; and their expanse is declaring the work of His hands. Day to day pours forth speech, and night to night reveals knowledge." This Psalm tells us that God speaks through His creation – sometimes to tell us how great He is, other times to tell us how much we are loved.
God Speaks through Whispers on the Heart– Sometimes we feel urged to do something and we can't explain why. Through prayer and discernment we can figure out if that is God's whisper on our heart. Sometimes God speaks to us this way through prayer by nudging us to pray for something we wouldn't otherwise have prayed for. When God directs our prayers He is speaking to us, whispering to us words of guidance, discernment, encouragement. Sometimes we call this our conscience or our "little voice inside." But the One who dwells within us has a voice as well. I call it my "loving voice inside." He whispers encouragement. He whispers to me suggestions for acts of love toward someone in need. He whispers words to say at the proper time to heal another's heart. Sometimes it's whispers of warning like "Stay away from that. You know better." When you hear your 'loving voice inside," thank Him for what He spoke to you.
There is no sure-fire formula for hearing God speak. He speaks in His own way and in Hs own time to the hearts that are prepared to hear Him. But if we cultivate a heart to hear, we can be sure that His silence is not on account of our not listening.
Cindi McMenamin is a national speaker and the author of several books including When Women Walk Alone, Women on the Edge, and When Women Long for Rest. This article is adapted from her book Letting God Meet Your Emotional Needs. For more on Cindi's books or ministry or for free resources to help strengthen your soul, see her website: www.StrengthForTheSoul.com.
Have something to say about this article? Leave your comment via Facebook below!
advertise with us
Example: "Gen 1:1" "John 3" "Moses" "trust"
Advanced Search
Listen to Your Favorite Pastors