How Can a Horse Bring You Closer to God?
Susan J. Knowles
Thursday, October 11, 2012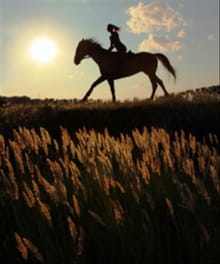 I know what you are thinking. This must be some kind of joke. Something catchy to get my attention but it's not really a story about God and a horse, right? Well, it is a true story about a horse and how God used her to influence my relationship with Him.
My love for horses began as a child. Every week, I would anxiously await my favorite show, Mr. Ed. Mr. Ed was a weekly series about a palomino horse who could talk. Mr. Ed, however, only spoke to his owner named Wilbur. To everyone else, Mr. Ed was just a horse. I didn't know it then but it was my love for horses that God would use to draw me closer to Him.
My family could not afford to buy me a horse. My older twin brothers and I grew up in a small southern town with parents who struggled financially. We were considered "poor" and owning a horse under our circumstances was out of the question. I remember, however, promising myself that when I "grew up" I would own a horse. As an adult, I never gave up on that dream.
My relationship with God to this point in my adult life had always been one of reverence. Although, I believed in God, I didn't have a "relationship" with Him. In fact, no one had ever really explained to me what that meant. I prayed on occasion when I needed help but that was about it. I didn't know about reading the Bible for assistance to enhance my relationship nor did I ever really converse with Him. Additionally, I had no reason to believe that my relationship with God was any different than anyone else's.
Once I decided to buy my own horse I began to worry that I wouldn't know how to proceed. I was a novice in my understanding of horses. God had his hand in the process from the beginning, however. What transpired was something I never saw coming. That's what makes God so great. He is a constant reminder to us that we are not in control. I can look back at my need to control today and laugh. There was a time, however, that I always thought I needed to be in control and couldn't see the fault in it. I didn't realize how much my need for control affected my relationship with God.
God would show me his plan for our relationship beginning with two dreams. On the first night, I dreamed about a man in a cowboy hat and the name "Bob" was connected to this man. I was confused but felt perhaps this was the name of the man who owned the horse that I would eventually purchase. On the second night, my dream was more dramatic. As I started to drift off to sleep, I began to have a vivid dream. I saw myself in the dream lying face down on my bed. Red flowers with green vines were painted on my back. I was watching it all unfold. I looked at myself lying on the bed sleeping soundly and felt great peace. The next thing I knew, I saw myself, sit up abruptly in the bed. I then heard a voice that clearly said, "Something better is coming for you". I woke up immediately and began to think about what this meant. I realized that this statement was referring to a horse that I had originally hoped to purchase but had passed on buying. I felt that I had made a mistake in not buying him. However, when I contacted the owner to let her know that I had changed my mind she had given me the bad news that I was too late. The horse had been sold. Perhaps God was telling me that I had made the right decision after all.
The next morning following my dream, I began contacting ranches to continue pursuing horse ownership. I had it in my mind that I would only consider buying a gelding (neutered male) and it had to be a paint horse (breed of horse that has large splashes of color on its body). I contacted a random ranch that I found in the telephone book. When I stated that I was only interested in purchasing a gelding paint horse, I was told by the owner that he only had one paint horse and that she was a mare (female). I politely thanked the man and told him I wasn't interested.
Have something to say about this article? Leave your comment via Facebook below!
advertise with us
Example: "Gen 1:1" "John 3" "Moses" "trust"
Advanced Search
Listen to Your Favorite Pastors