How to Deal with Dashed Hopes and Disappointments
Cortni Marrazzo, Crosswalk.com Contributing Writer
Tuesday, October 01, 2013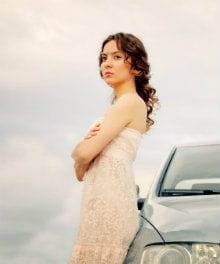 When we are believing God for something and a door seems to slam shut on our face (negative pregnancy test, we don't get the job we applied for, our house doesn't sell, etc.) it's easy to assume the answer God is giving you is no - end of story. But we have to remember God is not a God of endings, but a God of beginnings. Most likely, it's not the end of the story at all! Instead of no, it could very well instead be "not now" or "not in this way." Either way, you can be sure that God is looking out for your best interest. And timing really is everything. Everything in life has a season (Eccl 3:1). Perhaps it's simply not the right timing for that thing you desire.
It might be what Mark Batterson describes in his book The Circle Maker, a "divine delay" (Amazing book by the way - I highly recommend it). Think of it this way: when you are baking cookies, they have to be baked at a specific temperature for a specific amount of time to come out perfect. If you double the temperature and cook them for half the time, they will be ruined. If you want soft, chewy, delicious cookies, they need to be baked for specific amount of time. It's worth noting that the timing will be different for different types of cookies, ovens, altitudes, pans, etc. And the perfect timing for what you are believing for will not be the same as someone else's. However, if you really want to compare, you can read many stories of men and women of God in the Bible who waited years for their desires to come to pass (Abraham and Sarah, Joseph, and Moses… just to name a few).
What if it's not about timing and the chance has passed, the answer being a definite no? It could be a matter of a different method. God isn't cookie-cutter. He accomplishes His plans in many different ways and scenarios. If you are believing for a child and are told you can't conceive, what if adoption or foster care is what God has in store for you? Passed up for a promotion at work? Perhaps God is bringing financial increase through another avenue. Heartbroken over a breakup? Maybe God has another person that would be better suited for you. We never know how God is working behind the scenes and that's why it is important to trust Him and know that HE has what's best for us, even when our flesh screams for something else.
Look Beyond Ourselves (Eph 2:10)
When I find myself focusing on how I'm not getting what I want when I want it (yes I sound like a toddler, but that's how we all act at sometimes), I take comfort in reminding myself that it's not all about me! I've been purposed to be a blessing to others in this life, as we all are, and sometimes God's timing in our lives is simply better for someone else! A few years ago, my husband and I decided we wanted to start trying for our first child. I figured it would happen right away, but after months and months went by with nothing, I started to get really discouraged. I purposed to sit down and study the Bible to find some Scriptures to encourage myself. God revealed quite a few of them to me and I wrote them down, putting them into an article to be posted here on Crosswalk. I hoped to encourage others who were going through the same thing. I was blown away and incredibly humbled by how many emails I got from people who were indeed encouraged and blessed by the article. Four years later, I'm still getting e-mails. One day, while reading one of those emails, I realized that even if the only reason I went through that waiting period was so I could encourage others going through the same thing, then every minute was worth it. (For the record, God did finally answer our prayer for a child and the timing was perfect as I ended up going through pregnancy at the same time as a few dear friends and now our boys are the best of friends.)
Have something to say about this article? Leave your comment via Facebook below!
advertise with us
Example: "Gen 1:1" "John 3" "Moses" "trust"
Advanced Search
Listen to Your Favorite Pastors