How to Give Your Prayers More Impact
Cortni Marrazzo, Crosswalk.com Contributing Writer
Thursday, December 26, 2013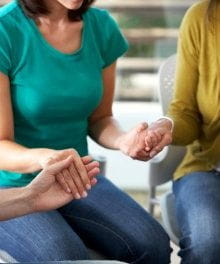 "I'll pray for you."
Are they kind words or an empty promise? When we hear that someone we know is going through a hard time, sometimes the only words of comfort we can think of is to tell them we will pray for them. While usually appreciated by the recipient, don't you sometimes wish there was more you can do, even if it is seems there's nothing else you can physically do?
Every Christ follower faces this dilemma, whether it's with our friends, people we serve with at church, co-workers, our family members, or even a stranger. How can we make a difference beyond the words "I'll pray for you"? I believe whether we are a pastor, a ministry leader at church or newly saved, we can take things up a notch from praying for people, to praying with them. Small change of words, but it makes a big difference. Of course it's easier and more comfortable to say the words and hopefully actually pray about their situation later in the comfort of your own home. It can be a bit more uncomfortable to stand with someone in a public place and pray with them in person, where they can hear what you pray and, gulp, other people may see. However, God's way of doing things that requires a certain amount of "uncomfortable" is most often better than what we will accomplish from in our comfort zone. God's ways often seem odd and appear to go against the grain, but they are truth and provide the best results.
Praying for people in your own quiet prayer time alone isn't bad at all. It is a great thing to do and often your only choice, but if we're open, sometimes there is a better way. So why would praying WITH a person be so much more impactful than just praying for them?
You won't forget
Honestly, this might be one of the most practical reasons praying with someone in person is ideal. We all have good intentions and while most of us honestly want to pray for people's situations, but we are also human, life gets in the way and we can forget. Sometimes if you want to get things done, you have to do them immediately, so praying for a situation the minute you hear about it is one way you can do that. Jesus said it well when he found his disciples in the garden of Gethsemane sleeping instead of praying, and he said to them, "The spirit is willing, but the flesh is weak" (Mattew 26:41). Bypass your weak flesh by praying immediately before you get the chance to forget.
Your prayers can personally impact someone
It's one thing to know that someone is praying for you (or to just think that they are) but it's another thing to actually hear the words prayed over you and your situation. Perhaps God wants to speak through you while you are praying for that person. God could lead you to pray for the strength for that person to forgive someone else when they never mentioned anything about that. You could remind them to focus on what is unseen rather than what is seen in their situation when they may have never thought of that. When you pray for someone, especially when you pray God's Word over them (which is the most powerful form of prayer) you are speaking the power of God's Word over their situation. Spoken words are powerful and by praying God's Word over someone, you are asking God to perform his Word over that particular situation and bring his will to pass in that person's life! Your friend may never have even thought of the scripture you pray over them or maybe they've never even heard it. What an amazing way to bring comfort and encouragement to them!
Your faith can become contagious
Have something to say about this article? Leave your comment via Facebook below!
advertise with us
Example: "Gen 1:1" "John 3" "Moses" "trust"
Advanced Search
Listen to Your Favorite Pastors