How to Help a Friend Through Breast Cancer
Janet Thompson, Founder of Woman to Woman Mentoring
Friday, October 04, 2013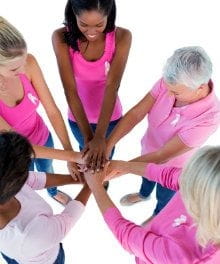 "I'm sorry…but you do have breast cancer."
Those shocking words crackling through my cell phone rocked my world eleven years ago. I was running errands…trying to outrun suspected bad news. After the doctor's parting words, "You'll be fine," I fired up the car engine and started driving and dialing. The first person I called, after I told my husband, was my best friend, but she couldn't comprehend the diagnosis. "A positive biopsy doesn't mean it's malignant, does it?" she asked.
It's hard to know what to say or do when a friend or relative drops the bombshell news that she has breast cancer. Often our natural response is to recoil and retreat. Maybe it's the fear of facing our own mortality or the time and emotion required if we do get involved. We ease our conscience by thinking: she would rather be alone right now anyway. Or she needs her family at a time like this. Or she has so many friends; I know someone will help her.
We may send a card or make a call offering to help, closing with "I'll be praying for you," then on we go about our life while her life crumbles. Yet the Bible clearly tells us to, "Help each other in troubles and problems. This is the kind of law Christ asks us to obey" (Galatians 6:2 NLV).
How can we put that verse into practical terms? What does it truly mean to help each other in troubles and problems? Perhaps you can glean some ideas from the ways my friends and family came along side me during my initial breast cancer journey and two recurrences.
Helping Her with the Bad Days
Don't Just Offer to Help—Do Something Tangible
Most of us find it difficult to receive help; we are hesitant to impose on others. When asked the generic question, "How can I help you?" our common response is, "I'm fine, but thank you for asking." Truthfully, we need everything, but we don't know if the person is offering to mop our floors or pick up our kids from school—both of which we need, but are afraid to ask.
Another well-meaning comment I received was, "Just call me if you need anything." Now how many women are going to pick up the phone and ask for help, especially if they are not feeling well? Again, we don't know what the person is willing to do for us, and we don't want to be a burden.
So instead of offering to help—just jump in and do something. If you know your friend well, you know where she needs help; and even if you don't know her well, you know where all women need help. If she is in the midst of cancer treatment, she is going to need assistance with every area of her life, especially if she is single. Here are some practical ideas:
1. Schedule her friends, family, and church to bring meals. Use your lunch break to take her lunch and eat with her.
2. Offer to drive her to doctor's appointments or treatments and take notes for her.
3. Shuttle her kids to and from school or find someone who can.
4. Sit with her during chemo treatments or accompany her to radiation. Talk, read a book to her, or just hold her hand.
5. Take her children on a play date or to your house.
6. Do her laundry.
7. Do her grocery shopping. If she is too sick to dictate a list, take an inventory of her refrigerator and cupboards and make your own list.
8. Answer her email.
Have something to say about this article? Leave your comment via Facebook below!
advertise with us
Example: "Gen 1:1" "John 3" "Moses" "trust"
Advanced Search
Listen to Your Favorite Pastors