How to Win the Battles You Face
Whitney Hopler, Crosswalk.com Contributing Writer
Tuesday, June 18, 2013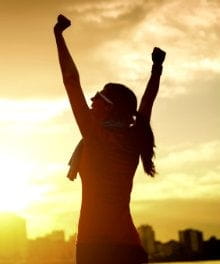 Editor's Note: The following is a report on the practical applications of Bo Stern's new book, Beautiful Battlefields (NavPress, 2013).
Life in this fallen world is full of suffering that tests our faith in God – from illness and financial crises to broken relationships and the loss of dreams. You can do more than just try to get through these battles, however: You can emerge from them with stronger faith.
Here's how you can rely on God to help you win the battles you face in life:
Discover beauty that only comes from battles. One of the most valuable results of engaging in battles is finding beautiful blessings hidden within the struggles that you couldn't find any other way. Choose to look at the battles you're facing from a positive perspective, expecting to discover blessings beyond the pain.
Keep in mind that God has good purposes for the suffering He allows to enter your life. While God never causes suffering, He does allow everyone in this fallen world to experience it whenever doing so will accomplish good purposes in their lives. Ask God to show you the good purposes behind the suffering He let enter your life, and to help you learn whatever lessons He wants you to learn through your suffering, so you can emerge from it with stronger faith. Keep in mind that God often uses your suffering to fulfill good purposes not just in your own life, but also in the lives of other people who are watching to see how you'll respond to it and how God works in your life as a result.
Trust God day by day to provide what you need. Follow Jesus' advice to live one day at a time. Rather than worrying about what you anticipate you'll need far into the future, rely on God to faithfully provide what you need every day as each day arrives. God wants you to walk closely beside Him daily, so He provides for you on a daily basis to encourage you to focus on developing a closer relationship with Him every day.
Notice how your battles reveal God's strength. Trusting God to fight for you during your battles helps you learn how strong He really is. Unless you're faced with battles that go beyond your own ability to fight, you'll never see God's power at work in ways that will grow your faith. Expect God to empower you to face any battle, because He is more than strong enough for any challenge you'll ever face.
Develop greater endurance. If you don't try to escape from your suffering while it's God's will for you to endure it, you'll develop endurance during your time on the battlefields of life. Endurance will then produce character in you, which will in turn produce hope.
Ask God to give you an eternal perspective on the battles you're fighting right now. Pray for the ability to understand the full significance of the challenging events that are currently happening in your life. Approach your battles with an eternal perspective in mind, willing to take whatever risks of obedience God calls you to take because you believe that doing so will be worthwhile in the end.
Discover the blessings of sorrow. Rather than trying to avoid the sorrow that you encounter during battles, discover the blessings that can result from experiencing sorrow. Realize that sorrow: connects you to the comfort of God's presence, helps you learn more about Jesus' compassionate heart for a suffering world, and makes you more effective as you minister to other people who are suffering.
Fasten your heart to God's love. Don't let your suffering obscure your ability to experience God's great love for you. In every situation (no matter how difficult), you can still know that God loves you completely and unconditionally. Rather than using your circumstances as a way to try to measure God's love for you, gauge God's love for you on the basis of Jesus' ultimate for you in the cross. Keep in mind that God doesn't just give love; He actually is love, and you can always count on His love in your life.
Have something to say about this article? Leave your comment via Facebook below!
advertise with us
Example: "Gen 1:1" "John 3" "Moses" "trust"
Advanced Search
Listen to Your Favorite Pastors