Man Whisperer vs. True Woman
Gabrielle Pickle, She Is Safe
Thursday, May 19, 2011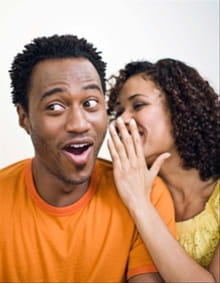 "NEW DATING BOOK Says Feminism Ruins Relationships, Women Can Stop Men from Cheating," read the headline of the December 8th Fox News article. "First there was the dog whisperer. Then there was the ghost whisperer. Now comes the controversial new dating and relationship guide: The Man Whisperer." I was hooked.

The self-proclaimed feminist authors claim that feminism has made a mess of male/female relationships. "Feminism teaches women that they are equal to men, but when it comes to love, romance, attraction, and chemistry – men don't fall in love with a woman because she is an equal. Men fall in love with women who are their compliment: feminine, loving and appreciative."

I was fascinated. Was Man Whispering just a new face for feminism? A new tool of manipulation? A return to a more biblical relationship model? I simply had to know more! As soon as I could break away from my computer, I braved the 20 degree weather and freezing rain to scurry over to the nearest bookstore in search of this new book – The Man Whisperer by Donna Sozio and Samantha Brett. 50 minutes, 3 bookstores and a rain-frazzled hairdo later, I returned in triumph. The next 24 hours of nonstop reading proved to be the most fascinating and horrifying of my adult life.

The Fascinating

The Man Whispering authors took 236 pages to tell women that being kind, respectful, gentle, supportive, and forgiving will yield far greater results in their relationships than being an argumentative nag. Funny, the Bible says the exact same thing.
Kind: "And so train the young women to love their husbands… be kind and submissive to their own husbands." Titus 2:4-5
Respectful: "Let the wife see that she respects her husband." Eph. 5:33
Gentle: "Let your adorning be… the imperishable beauty of a gentle and quiet spirit." 1 Pt. 3:4
Supportive: "The Lord God said, "It is not good that the man should be alone; I will make him a helper fit for him." Gen. 2:18
Forgiving: "Be kind to one another, forgiving one another, as God in Christ forgave you." Eph. 4:32
Nag: "Better to live on a corner of the roof than share a house with a nagging wife." Prov. 21:9, 19.
There has been a consistent trend in the secular relationship community of rediscovering God's design for male/female interaction. Of course, they don't actually recognize it as biblical. But advice like girls not pursuing guys, letting the man be the provider, and being nice to the man you love…. is all clearly straight out of Scripture. I have to hand it to the Man Whisperer authors –they got it right – acting like a nice woman (rather than a bossy man) is guaranteed to improve any relationship! There is a general blessing on anyone who practices these truths, but God has something far greater in mind for his daughters.
The Horrifying
Man Whispering Motivation: In the words of the author, "Why should you zip it, let him fix things on his own, stroke his ego, and wait for him to do what he wanted? Quite simply, because it gets you what you want in romantic relationships." There it is. The underlying heart motivation for theses good outward actions (kindness, gentleness, respect, etc.) is selfish. Man whispering is about getting what you want.
This stands in direct contrast to what God has called his daughters to be – true women of the Bible. A true woman is willing and determined to reflect the beauty and heart of Christ to her world. She seeks to live a God-centered life, trusting Him and saying "Yes, Lord!" in all things. (www.truewoman.com) A true woman submits, respects and loves because of what Jesus Christ has done for her, not what she can gain through her nice feminine behavior.
Have something to say about this article? Leave your comment via Facebook below!
advertise with us
Example: "Gen 1:1" "John 3" "Moses" "trust"
Advanced Search
Listen to Your Favorite Pastors