Man Whisperer vs. True Woman
Gabrielle Pickle, She Is Safe
Thursday, May 19, 2011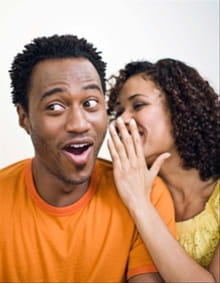 This is what the Man Whisperer idea missed; femininity is not about self, or even about men, it is about God. Wives are called to submit to her husband, because it reflects the church's submission to Christ (Eph. 5:22-24). Husbands are commanded to love their wives just as Christ loved the church and gave himself up for her (Eph. 5:25-30). "God created us male and female precisely so that we could display the glory of His son (Gen 1:27, 2:21-22). Our sexuality is designed for the glory of the Son of God. Womanhood and manhood are not an afterthought in God's plan. God designed them precisely so that they would serve to display the glory of Son dying to have His happy, admiring bride." (John Piper, in Voices of the True Woman Movement)
True Woman Motivation: While true femininity, by God's design, brings out masculinity, its primary purpose is not self or another person. True Womanhood is about reflecting God's glory to the world by living in biblical complement to masculinity.
The Difference
The Man Whisper uses her femininity for her own gain to manipulate her man into acting like a man so she can have the relationship she always wanted.
True Womanhood uses her femininity to bring glory to God which in turn serves as a powerful call for men to rise up to be who God created them to be: masculine co-bearers of God's glory.
Man whispering is just another human attempt to have the blessings of God without surrendering to the Lordship of Jesus Christ. It is an effort to implement the biblical model for relationships, but without the power of the Holy Spirit it will always be incomplete. For those who do not have a personal relationship with Christ, man whispering is the best they can hope for. They simply do not have the Holy Spirit equipping them to live self-sacrificing, unconditional-love filled, God-glorifying lives. But for those of you who know Christ, you have a choice. Do you conduct your relationships in your own strength for your own purposes? Or do you rely on the power of the Holy Spirit to love and live through you, so that your relationship brings glory to God? The difference between man whisperer and true woman is total surrender to Jesus Christ. His strength. His relationship. His glory.
Man Whisperer vs. True Woman…. the difference lies in the motives of our heart.
Who are you… Man Whisperer or True Woman?

This article originally posted January 10, 2011 on www.GirlsGoneWise.com.
© Gabrielle Pickle
About Gabrielle Pickle: Committed to serving as a voice for silenced, Gabrielle is the Associate Director of Communications for She Is Safe, a nonprofit dedicated to providing new life to abused and exploited women and girls in highest-risk places around the world. She is also one of the contributing writers at the Unlocking Femininity online magazine, providing biblical truth to today's woman.
Have something to say about this article? Leave your comment via Facebook below!
advertise with us
Example: "Gen 1:1" "John 3" "Moses" "trust"
Advanced Search
Listen to Your Favorite Pastors