Tis the Season to Have a Mental Breakdown
Jennifer Slattery, JenniferSlatteryLivesOutLoud.com
Thursday, December 12, 2013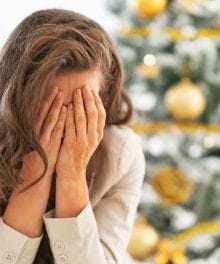 'Tis the season to… have a mental breakdown.
Each year, the frantic rush seems to begin earlier. It starts with a trickle of junk mail and a random Christmas carol played on the local radio station. Before we know it, we're slammed with parties, shopping, and an ever-mounting to-do list that, if tackled, will somehow usher in the joy of the season. It's tradition, with an insane case of heartburn included! So we grit our teeth, roll up our sleeves, and put on our "Merry Christmas face" when inside, we're anything but joyful.
When did the simple celebration of the babe in a lowly manger turn into a whirlwind of to-do-lists, over-filled calendars, depleted bank accounts, and unmet expectations? And what can we do to turn our bah-humbugs into fa-la-la-la-las? For some of us, that might seem far reaching, but there are ways we can reduce our inner angst while increasing our peace. And it begins, I believe, with a prayerful and honest evaluation of ourselves, our circumstances, traditions, and expectations.
For many, the greatest stressor experienced over the holidays is the intense pressure to perform. According to working mother of three, Kim Chipman, the stress of measuring up to other people's demands is exhausting. "There's so much expected of me," she says. "Be Santa. Be Martha Stewart. Be Betty Crocker. Be happy. Decorate more. Bake more. Shop More. Spend more. Pile on a whole bunch of expectation and anticipation on top if it; and I just want to run. The pressure is suffocating."
According to Rita Barrett Greenwell, PLMHP, these expectations to "do" can be internal and external. "The internal stress is our desire for perfection," Greenwell says. "We have an image in our head of that perfect outfit, the perfect guests, the perfect gifts. Then there's the external pressure of trying to manage others' perceptions of all the above."
The first step, then, in managing expectations is to determine their source. Are we placing unrealistic or unnecessary demands on ourselves? Are we allowing others to place expectations upon us? Or are we assuming expectations based on past practices or tradition?
There's a biblical account of two women, one named Martha, the other Mary, preparing for a very important guest--Jesus. I imagine many are familiar with the story, found in Luke 10:38-42. When Jesus arrived, Martha launched into meal preparations while her sister chooses to spend time with Jesus. This narrative has inspired numerous sermons and devotions, the emphasis usually being: Don't be a Martha! A woman, who clearly allowed her to-do list to take control rather than surrendering her time to the Savior.
Martha suffered from expectation overload. First, she lived in a culture where women were judged largely by their domestic abilities. They had two responsibilities—caring for their home and providing for all the needs of their guest. Granted, Mary and Martha were likely quite wealthy, which means they probably had servants to do the bulk—if not all—of the meal preparations. And yet, even so, as the matriarch, she ultimately assumed full responsibility for the well-being of her guests. It would be quite natural, and likely even expected, then, for her to maintain an active, supervisory role over the preparations. In essence, I suspect she felt she was doing what was expected and even proper.
The problem occurred when she placed more emphasis on the details than the who.
And how did Jesus respond? But the Lord said to her, "My dear Martha, you are worried and upset over all these details! There is only one thing worth being concerned about. Mary has discovered it, and it will not be taken away from her" (Luke 10:41-42 NLT).
Have something to say about this article? Leave your comment via Facebook below!
advertise with us
Example: "Gen 1:1" "John 3" "Moses" "trust"
Advanced Search
Listen to Your Favorite Pastors