Be "Shrewd as a Serpent" When Making Important Purchases
Steve Diggs, No Debt No Sweat! Financial Seminar Ministry
Tuesday, January 24, 2006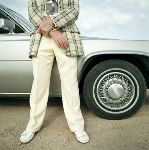 In the early 70's I had an afternoon radio show on one of the Nashville stations. Being a poor, broke college kid, eating out was a luxury I couldn't afford. So, when I got off the air at 6:00 p.m., I rushed back to the school cafeteria in time to get supper before they closed the line.

Usually when I arrived, some of my friends were still there and we would hold court at a long table that we considered to be our turf. It was there I began noticing the cutest little brunette sitting at the end of the table with a girlfriend. They seemed to show up at the same time every evening. She was one of the brightest, happiest girls I had ever seen. As you can guess, one thing led to another and it wasn't long before we were a serious item on campus. It wasn't until some time after we had been dating, that Bonnie finally 'fessed up and told me that I had simply fallen into her cunningly laid trap. She told me how she listened to the show until I went off the air each day, then freshened up, and headed over to the dining hall — arriving only minutes before I did.
I have always been so grateful that she took the proverbial bull by the horns and reached out to me. I can tell you after twenty-six years of marriage that, next to my salvation, Bonnie is the sweetest blessing I have ever been given.
But, I'm getting ahead of myself. Before we finally got married in August 1976, there were a number of hurdles to overcome. Not the least of which was my own selfishness and immaturity. Despite my profession of true love, I was plagued with a terrible case of cold feet. As months turned to years and college gave way to jobs, I still had not gotten the courage to ask Bonnie to take a trip down the aisle with me. Finally, with a non-committal boyfriend and pressing family needs back home, Bonnie left Nashville and returned to Pennsylvania.
Chur-thump! My heart hit the floor. She had left me — and it was my own fault! By this time we had been out of school for nearly two years. I had a successful real estate business going in Nashville. I knew what my options were. I could either stay in Nashville, become a real estate tycoon — and lose Bonnie forever — or, I could swallow my pride, close up the business, move to Pennsylvania, and help Bonnie care for an aged family member. Then, maybe I could re-win her heart, and she would marry me.
Well, thankfully, I did the right thing. I moved to Erie, Pennsylvania, in the spring of 1976 to rebuild my relationship with Bonnie. Things went great with the two of us — we were married within six months. But the job situation was another matter. It soon became evident that my work options were pretty limited. As a matter of fact, the only job I could find was selling cars. Actually, it has crossed my mind that maybe God figured this was the best way to take me down a few notches.
"Ugh!!" I thought, "Not cars. Anything but selling cars!" I had heard all the jokes about these guys. I knew they were the last people firemen pull out of burning buildings! (Old joke: What's the difference between a lab rat and a car salesman? Answer: There are some things you can't get a lab rat to do.)
Over the next months I learned a lot. I saw just how dishonest people could be. I heard buyers lied to and taken advantage of. My manager told me not to do my friends any favors because my enemies wouldn't buy from me anyway. I saw business conducted with little sense of morality and practically no concern for putting others' needs first. Although I did pretty well selling cars, I hated every minute, and was thrilled the day I left.
Have something to say about this article? Leave your comment via Facebook below!
advertise with us
Example: "Gen 1:1" "John 3" "Moses" "trust"
Advanced Search
Listen to Your Favorite Pastors