American Poor, the Gospel, and Social Justice
Greg Stier, dare2share.org
Wednesday, February 26, 2014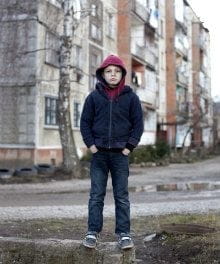 When my brother and I trusted in Jesus we began to share this message of hope with my mom. For years she resisted. She thought she was too bad for God to save. She especially felt guilty because she had lived a life of hard partying. I was the result of one of those parties. When she found out that the man she met got her pregnant she drove from Denver to Boston under the pretext of visiting family. Her real intention was to have an illegal abortion (this was before Roe VS Wade.)
But my grandparents found out, got ahold of her talked her into having "that baby" (aka "me!") That's probably why she always looked at me with a look of guilt and maybe part of the reason she cried herself to sleep at night. She had almost taken my life in her womb and, as a result, felt unforgivable.
But my brother and I kept sharing with her the message of hope that we now had in our hearts. When I was fifteen years old she finally relented right there at the kitchen table while smoking a pack of Benson and Hedges Gold 100′s cigarettes. I had the privilege of leading my mom to Jesus in that smoke filled kitchen.
Over time my mom's tears were replaced with a new and profound sense of joy. Jesus gave her (and us) hope both in this life and the next. It was this hope that made us feel rich for the first time. We were still poor financially but we felt like millionaires in the deepest part of our souls.
And now we had Somebody to talk to who would, not only listen, but could do something about our situation. My mom's sense of hopelessness was replaced by a sense of anticipation and deep joy.
That's why I don't pay much attention to Christian theories of social justice that minimize the gospel message in the whole process of ministering to the poor. I would guess that many experts who've been perpetuating these theories have never been poor themselves. Some even try to make themselves poor (move to a poor part of the city, live on next to nothing, etc) so they can relate…but it doesn't work that way.
You see poverty is not the absence of money. It's the absence of hope. Self-induced poverty always has a way out. It can always reverse the situation when the experiment gets boring. Real poverty can't.
Jesus brings the audacity of real and lasting hope into a hopeless world. That's why providing food, clothes, job opportunities and money are not enough when it comes to social justice. These things may be a beginning but they are far from the end.
Don't get me wrong, growing up I was deeply grateful for every helping hand our family received. I was personally blessed by adults outside our family who helped me make it through my poor upbringing. From taking me out to eat to giving me clothes to helping send me to camp every gift I received from Christians I knew growing up was appreciated. But it was the message of Jesus that truly gave me, my brother and, eventually, my mom a hope that we couldn't shake.
Feed the hungry, clothe the naked and give jobs to the poor. But please don't leave Jesus out of the social justice equation. Provide them bread for their bodies and then give them The Bread of Life for their souls. Provide them water to quench their physical thirst and then give them The Living Water for their spiritual thirst. Build them a house here on earth and then build them one in heaven as well.
Anything short of that is a lesser brand of social justice.

Greg Stier is the Founder and president of Dare 2 Share Ministries International. He has impacted the lives of tens of thousands of Christian teenagers through Dare 2 Share events, motivating and mobilizing them to reach their generation for Christ. He is the author of fourteen books and numerous resources, including Dare 2 Share: A Field Guide for Sharing Your Faith and Firing Jesus. For more information on Dare 2 Share and their upcoming conference tour and training resources, please visit dare2share.org.
Have something to say about this article? Leave your comment via Facebook below!
advertise with us
Example: "Gen 1:1" "John 3" "Moses" "trust"
Advanced Search
Listen to Your Favorite Pastors