7 Things to Say and Do to Encourage Mothers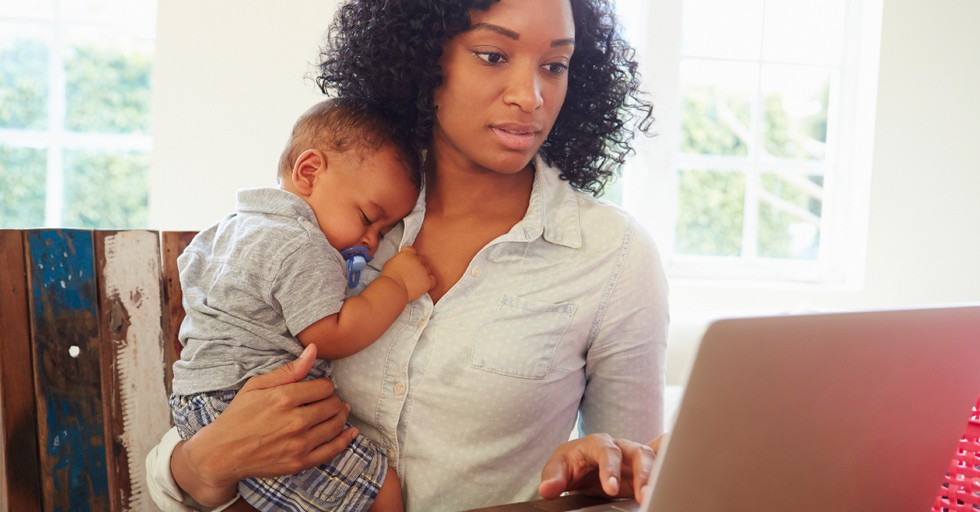 Motherhood can be seen as one of the most important jobs on earth. Whether you have naturally birthed a child or taken on the responsibility of children not born through your own womb, accepting this call is no easy feat. From the late nights of infancy to the attitude-laden teen years, motherhood requires much patience. This is especially true for those who have multiple children, are single mothers, or have children with special needs. The weight of daily responsibility in addition to wanting to raise children in the Lord can be quite challenging.
Regardless of the circumstance, every mother needs someone to come alongside them and bring encouragement. Unfortunately, as a mother of seven, I have heard more critiques and words that make children feel like a burden than anything else. Even when my husband and I were parents of one, many spent more time feeling sorry for our newfound responsibility than congratulating us.
Yet, now more than ever, in a society full of political challenges, increased maternal depression, and mixed messages from society on what is morally right and wrong, mothers need friends, family, and the world around them to recognize their hard work and be supportive.
In the words of Billy Graham, "The influence of a mother upon the lives of her children cannot be measured. They know and absorb her example and attitudes when it comes to questions of honesty, temperance, kindness and industry."
With this in mind, here are seven things we can say and do today to bring encouragement to the mothers we encounter.
Photo Credit: © Getty Images/monkeybusinessimages
1. Tell her she is doing a good job.

Slide 1 of 3

There is nothing more rewarding than someone else noticing your efforts. Oftentimes, when I am in the grocery store and I see mothers with several children, I will lean over and say, "You are doing such a great job!" Amazingly, the mother will brighten up and a conversation is often started. If you have a friend who's a mother, find opportunities to brag on her in front of her! This is a great way to cheer her up and let her know that her love and attention to her children is valued.

Whether she is a mother of a two-year-old or 20-year-old, find opportunities to tell her she is appreciated. There's a chance she may never hear it from anyone else. Be her cheerleader on a tough day and let your words be like soothing medicine in her moments of weariness. Phrases like this can motivate her to keep going.

– I am so proud of you.

– You really impressed me how you handled that.

– You inspire me.

– You do such a great job with them.

– I am thankful for you.

– Your child is such a great kid!

"Gracious words are like a honeycomb, sweetness to the soul and health to the body." (Proverbs 16:4)

2. Invite her out for coffee.

Choosing to spend quality time with someone is a great gift. Often, mothers are so busy taking care of others that they forget to take a break to enjoy the company of another person. Yet, friendship and community are vital aspects of healthy Christian living. These outings can range from a coffee date to a play date, or even a dinner and a movie. If needed, you can offer to have her over to your home for lunch. No matter what, your intentional actions of offering companionship will give her a space to be vulnerable and see life outside of parenting.

"Two people are better off than one, for they can help each other succeed. If one person falls, the other can reach out and help. But someone who falls alone is in real trouble." (Ecclesiastes 4:9-10)

Photo Credit: © Mikael Vaisanen

3. Offer to help.

Slide 2 of 3

Motherhood is a team sport. Whenever we can lighten another's load, we should see it as a privilege. Often, we can be so busy with our own lives and frustrations, we forget to be intentional with others around us. Yet, through intentional moments of reaching out with support, we remind them that they are not alone.

For instance, rather than giving a judgmental stare to the mother of the crying toddler at the grocery store, offer to be of assistance. A few years ago, I experienced this firsthand when I took a few children out and one was having a particularly bad day. A woman old enough to be my children's grandmother stopped what she was doing and started to unload my groceries onto the cashier counter. I couldn't believe that someone had noticed my silent cry for help. Rather than have pity or mention that I "have my hands full" she got into action and shared about her life and children she had raised. It was a blessing that I will never forget.

Offering to help can include making a meal for a new mother, grabbing her groceries, babysitting, or being willing to help transport her children carpool style to school. Whatever the case may be, ask yourself, "How can I help her?"

"My command is this: Love each other as I have loved you. Greater love has no one than this: to lay down one's life for one's friends." (John 15:12-13)

4. Write her an encouraging message.

One way to remind a mother that she is valued is to take a moment to write or text words of affirmation. Sending a letter to her mailbox "just because" or handing her a card at church with kind words may be just what's needed on a tough day. This will not only bless them, but also bring you joy! Can you imagine how rewarding it would be to bless a mother every week with a gentle word? When you do so, you will open doors for friendship, prayer, and vulnerability. Pray for the Lord to give you the right words to say that can minister to her soul and draw her back to God's love. Let every word be life-giving and remind her that she has a friend in you.

"Be kind to one another, tenderhearted, forgiving one another, as God in Christ forgave you." (Ephesians 4:32)

Photo Credit: © Getty Images/Tatyana Tomsickova

5. Give her a date night.

Slide 3 of 3

One way to assist the mother in your life is to offer to babysit her little ones. Oftentimes, mothers fail to ask for help with childcare because they don't want to burden their friends. Yet, many marriages often suffer from not having personal time together. Whether you give her a gift card to a local restaurant or help her to secure a local teen to babysit, there are so many options for you to help her get out of the house and feel refreshed. For the single mothers, this can also be done by buying her a spa day or a gift card for a manicure. You can also be creative and grab a few treats and a basket for her to have a movie night at home. There are endless possibilities to let her know that you care about her mental health and her marriage (if applicable).

6. Listen to her.

Purposeful listening is a major aspect of effective communication. When we dedicate time to block out distractions to hear another person's heart, we show that we value their opinion. Mothers may spend their days listening and caring for others, while having their needs disregarded. It is vital that she has a safe place to share without fear of judgment. In these intimate moments, giving advice is not the goal. Instead, allow her to share freely her joy and pains. Sadly, you may be the only person who's willing to pause and let them know that their opinions matter. Whenever the opportunity arises to call her, text her or be in her presence, be quick to listen and respond with love and care.

"My dear brothers and sisters, take note of this: Everyone should be quick to listen, slow to speak and slow to become angry," (James 1:19)

7. Pray for her.

Above all, pray for the mothers you encounter. Whether it's a silent prayer as you pass the mother in the grocery store or a time of intentional prayer for the mom in your neighborhood who may be struggling, she needs your prayer. Studies have shown that motherhood plays a major role in how people will attach with their future spouses, interact with the world around them and feel secure. One study even suggests that one's attachment to their mother can predict how close the child will feel to God.

This is a heavy weight for mothers to carry daily. Not only do they hold the role of chef, nurse, chauffeur, and advocate, but they are also seen as a vital piece of a child's spiritual growth. We can make a choice to come alongside her and pray for her strength and wisdom as she raises her children. Prayer can bring the peace and answers that she needs and enlighten you on practical ways you can be of support. If you aren't sure what to do to encourage her, just pause and pray!

"This is the confidence we have in approaching God: that if we ask anything according to his will, he hears us." (1 John 5:14)

Photo Credit: © Getty Images