Finding God's Purposes in Bankruptcy
James L. Paris, ChristianMoney.com
Friday, January 04, 2013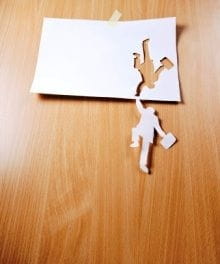 As I walked to the street I recognized a young man who had been called up to the table about a half hour before me. I remember him sharing his story of a job loss, medical bills, and his home being in foreclosure. He was sitting on a bench in the park with his head in his hands, apparently crying for quite some time. As I looked over his shoulder I saw him holding a small booklet that said Jesus Cares. Perhaps a good Samaritan handed this to him while passing by and witnessing his grief. How can we do anything but love and care for these people? How can we sit in judgment of them in our piousness? How can any of us be so confident that we may not end up in similar circumstances?
As I wrestle with this topic, I am continually drawn back to the spiritual parallel that God has placed in my heart. We, being sinners unable to pay our debt, go to God through Jesus Christ to ask for forgiveness. I truly believe that at the foundation of our Christian faith is what I call spiritual bankruptcy. If we can accept the premise that God can forgive us for our spiritual debt, why can we not offer grace to those who face financial bankruptcy? Even the Lord's Prayer (Matthew 6:9-13) makes reference to the forgiveness of debts. Of course, many will say this is not a financial debt and respond with Psalms 37:21The wicked borrow and do not pay back. I am not a theologian, but I can not believe that somehow financial shortcomings, even those that were the result of outright sin or bad decisions, can not be forgiven. Not forgiving those who have had financial failings seems like a clearly unbiblical stance, but one that still seems to make the rounds today. In my view, the wicked referenced in Psalms 37 would be today's version of those committing financial fraud. Borrowing with no intention of repaying or not repaying a debt when you have the ability to do so seems like the principle here.
I confess, there was a time in my early thirties that I looked around at my estate home, new cars, closet filled with designer suits, my six figure income, my red Corvette, and thought I was financially invincible. I was prideful and believed that things would just keep getting better. Despite losing all of my material wealth, I have to concede that I like the Jim Paris of today much more than the old one.
I don't know if it was good for me to have had a bankruptcy, but I know that as Christians, we are promised that all things can be used for good for those that love God and those that are called according to His purpose (Romans 8:28). I believe that God has used my bankruptcy to change me for the better. Rather than use my bankruptcy as a reason to stop my Christian financial teaching, I have chosen to embrace it. This is now another opportunity for me to relate with those facing life's most difficult financial challenges and to continue to keep my heart soft when pride threatens to return.
This article appeared originally on ChristianMoney.com. Used with permission.
James L. Paris is the author of more than 20 books including Living Financially Free, Money Management For Those Who Don't Have Any, and The 100 Best Investments For Your Retirement. Paris is the Editor In Chief of the website ChristianMoney.com. He regularly appears as a guest on radio and TV as a financial commentator. He has appeared on The 700 Club, Moody Radio, Point Of View, Life Today, Fox News Channel, and countless other media outlets.
He is an avid sailor, trumpet player, and black belt practitioner of Tae Kwon Do. He has three adult children and lives with his Wife Ann in Palm Coast, FL.
Publication date: January 4, 2013
Have something to say about this article? Leave your comment via Facebook below!
advertise with us
Example: "Gen 1:1" "John 3" "Moses" "trust"
Advanced Search
Listen to Your Favorite Pastors