5 Common Warning Signs You're Living Beyond Your Means
Megan Pacheco, Finicity
Friday, May 31, 2013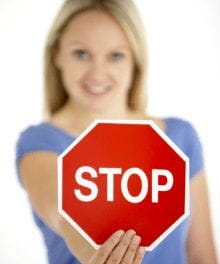 Whatever "it" is that you are using credit for, first make a decision to stop using plastic. Create a realistic debt repayment plan and do not pick up a credit card until you have paid your balances off and are ready to be a responsible consumer.
4. You aren't saving a minimum of 10% of your gross pay.
Saving is truly the foundation of healthy finances, yet so few of us actually save. One of the most common excuse for not saving is "I have too much debt." What people don't realize is that, unless saving is prioritized, debt will always be an issue.
Our goal should be to set aside at least 10% of gross annual income. Portion of it may go into a retirement fund while the rest to a regular savings account.
While setting saving goals, focus on both short-term as well as your long-term goals. Short-term should include having an emergency fund, 6 months of living expenses, a vacation fund, a Christmas fund, etc. Your long-term goals should focus on retirement, car replacement fund, and college funds for your children, etc.
5. You spend more than 25-30% of your gross pay on your mortgage.
Buying more home than you can afford has been a common phenomenon in the last decade. Long gone are the days when 20% down payment was the minimum in order to purchase a home. No down payment and borrowing more than can be afforded, combined with a stagnant job market, has plunged too many families into foreclosures and short sales. Are you counting on two incomes in order to make your mortgage payment? Are you spending more than 35% of your gross income just to pay your monthly note? Would you be in deep trouble if you experienced a reduction in income? (going from two to one incomes due to job loss, having hours cut, having pay reduced, etc.) If the answer is yes, you may be paying for more home than you can afford. Here are two rules of thumb to follow in regards to mortgage payments:
Stay within 25-30% of your gross income
Are you a two-income family? Buy as if you had just one income. This way you are creating margin in case of a job loss
Living beyond your means can be overcome. It isn't an issue of not earning enough, but an issue of reconciling your spending habits with your income. Understanding your spending and correcting waste will lead you to financial freedom!
Megan is one of the new additions to the Finicity (provider of Mvelopes and Money4Life Coaching) team. She comes with over 13 years of experience in the Biblical Finances area. Her content has been published by Money Matters, Do Well and Lifeway's More than Living. She is a mom of two young boys, and lives with her husband David in the Atlanta area.
Publication date: May 31, 2013
Have something to say about this article? Leave your comment via Facebook below!
advertise with us
Example: "Gen 1:1" "John 3" "Moses" "trust"
Advanced Search
Listen to Your Favorite Pastors