Why Does God Want Me to Give?
Cortni Marrazzo, Crosswalk.com Contributing Writer
Friday, November 15, 2013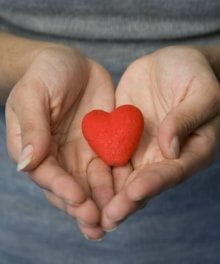 If you've been a Christian for any length of time, I'm sure you've heard and read about how we are supposed to be giving people. While we may accept and agree with that, many of us have an inner dialogue that occurs when God asks us to give something. We wonder why God is asking us to give, especially if we don't have much to begin with. Can't God ask someone who has more money? Can't he find another way to come up with this money or other need? After all, he is God!
Giving -sacrificial giving to be more specific- can be a hard pill to swallow, especially when we find ourselves in tough financial times. Why does God want us to give when it seems like we are fighting to cover our expenses at every turn? Or when we finally have a little extra after going through some lean times? Why does God seem to value our giving more when we have less to give (Mark 12:41-44)?
While we may question God's specific ways at times, we can ultimately rest in the fact that he knows what is best for us. "My thoughts are nothing like your thoughts," says the LORD. "And my ways are far beyond anything you could imagine. For just as the heavens are higher than the earth, so my ways are higher than your ways and my thoughts higher than your thoughts (Isaiah 55:8-9). Even though God's thoughts are beyond our understanding, thankfully he often does give us a glimpse of why he does things a certain way.
When it comes to giving, God doesn't need our money or our things. What he needs is us, and the process of giving blesses us and changes us, as well as brings him glory. Sometimes I love how God is multifaceted and synergistic, using situations in our lives for more than just one purpose. To illustrate, let's look at some of the purposes God establishes when we obey and give.
Our Giving Changes Us
When we give, we are obeying God and doing what is uncomfortable, which helps us grow and be who God has called us to be. Abraham was willing to give his only son after God asked him to, and I believe that experience helped prepare him to be the man of faith that he was. God can do so much more through a wise, giving, mature person than a person who is overly concerned with possessions of this world. Our money and belongings can disappear or get destroyed at any time and if we place too much value on them, we will be devastated when they are gone. God wants our treasure and worth to be with those things that can never be destroyed or taken from us, namely himself and the people he has put in our lives. "Don't store up treasures here on earth, where moths eat them and rust destroys them, and where thieves break in and steal. Store your treasures in heaven, where moths and rust cannot destroy, and thieves do not break in and steal. Wherever your treasure is, there the desires of your heart will also be" (Matthew 6:19-21).
As God changes our hearts to be more like him and or eyes to see things his way, we learn to focus on what is eternally important instead of on the temporal things of this world. Paul reminded the Corinthians to do this: "So we don't look at the troubles we can see now; rather, we fix our gaze on things that cannot be seen. For the things we see now will soon be gone, but the things we cannot see will last forever" (2nd Corinthians 4:18). By opening our eyes to what God may be doing behind the scenes, we can step out in faith, obey when he asks us to give, and rest in his plan in the midst of unknowns and seemingly scary circumstances.
Have something to say about this article? Leave your comment via Facebook below!
advertise with us
Example: "Gen 1:1" "John 3" "Moses" "trust"
Advanced Search
Listen to Your Favorite Pastors