Lending, Borrowing, and the Bible
Megan Pacheco, Finicity
Wednesday, September 18, 2013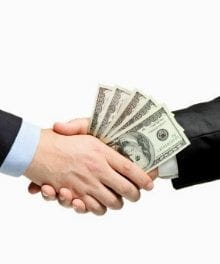 "And if you lend to those from whom you expect to receive, what credit is that to you? Even sinners lend to sinners, to get back the same amount. But love your enemies, and do good, and lend, expecting nothing in return, and your reward will be great, and you will be sons of the Most High, for he is kind to the ungrateful and the evil" (Luke 6:34-35).
There is a clear difference between the way the world deals with the subject of lending and borrowing and the way the Bible tells us we should behave when we borrow or lend money. God's word sets a much higher standard for us believers, both on the lending as well as on the borrowing side.
Lending, earning interest on debt and borrowing have been practiced by human kind for ages, and there is no lack of instruction, helpful tips and teaching around this subject. For anyone who is not well-versed in God's word it's easy to fall prey to financial practices that are neither honoring to the Lord nor to others. Lets' take a closer look at this subject, so we can act in confidence when borrowing or lending money.
Is debt a sin? What's our responsibility as a borrower?
God's word never speaks of debt as a sin, but there are clear references to debt as "slavery." Borrowing money is never encouraged in the scriptures, and when Moses spoke to the people of Israel, borrowing from others was listed as a consequence of disobedience. So what parameters should we live by when borrowing money?
Pay back every penny! The Bible is clear that when we do decide to take on debt, we are to pay back what we borrowed! In Psalm 37 we read: "The wicked borrows but does not pay back…" Or how about Ecclesiastes? "It is better that you should not vow than that you should vow and not pay." Because God's word gives strict direction to the lenders to extend grace to those who can't repay debt, we often treat it as a way out of fulfilling our obligation as a borrower, which is to pay back the debt we took on. The lender's obligations do not release us from our responsibility as a borrower!
Don't finance your wants with debt! Too many of us treat debt as a way to finance our wants and desires. That's plain foolish! Because of our inability and unwillingness to say no to "stuff," we convince ourselves that we have to have whatever that "it" is, and therefore place our families and ourselves in a position of enormous financial stress. Before you borrow money, sit down and make sure you have the financial margin to manage that debt as part of your monthly cash flow. If you don't, pray and trust God for provision. Give Him the chance to act on your behalf, instead of immediately reaching for man-made solutions!
What's our obligation as a lender?
Both the Old and New Testaments speak to the subject of lending and address the abuse with lending practices. As believers we are admonished to lend to those who are in need, to lend to the poor, without expecting anything in return. In Luke 6:34 we read: "And if you lend to those from whom you expect to receive, what credit is that to you? Even sinners lend to sinners, to get back the same amount."
When we lend, our motives should be pure. When those who borrow from us cannot repay, we should release them from the burden of debt and not hold a grudge. Yes that's very hard to do, but God's ways are much different than the world's ways.
Have something to say about this article? Leave your comment via Facebook below!
advertise with us
Example: "Gen 1:1" "John 3" "Moses" "trust"
Advanced Search
Listen to Your Favorite Pastors