Does God Bless Us in Proportion to Our Giving?
Steve Diggs, No Debt No Sweat! Financial Seminar Ministry
Monday, April 24, 2006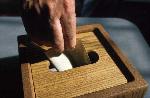 Today's problems with money and ministry aren't new. There have always been people who wanted to get paid for their goods deeds. In 1 Timothy 6:5, Paul talks about the "constant friction between men of depraved mind and deprived of the truth, who suppose that Godliness is a means of gain." (emphasis mine) Just a few lines later in verse 10, the apostle warns "the love of money is a root of all sorts of evil, and some by longing for it have wandered away from the faith, and pierced themselves with many a pang." Several years earlier in Luke 12:15, Jesus had warned, "Beware, and be on your guard against every form of greed…"
My greatest concern in regards to prosperity theology is that it can lead to perverted motives. When I make a contribution, it should be to please God and help others—not primarily for a personal return on my "investment." When I give in order to get back more, all sorts of wrong motives come into play. Suddenly, what should be a loving act becomes an act of selfishness and personal promotion.
However, to leave this subject here would be unfair and unbalanced. I believe the Bible does indicate that God blesses those who give. Note the following:
Jesus said, "Give and it will be given to you; good measure, pressed down, shaken together, running over, they will pour into your lap. For whatever measure you deal out to others, it will be dealt to you in return." (Luke 6:38, NASV)
Is God sending us mixed messages? Is He the author of confusion? Not at all! Do I have answers to all the in's and out's on this issue? No. But I have spent a lot of years thinking about it, and I do have a few observations (that are subject to change as I study and learn more) that make sense to me today.
First, I believe that God is perfectly capable of searching and knowing each of our hearts. And, while the principles He wants each of us to learn are the same—I don't believe He always uses the same methodology with each believer.
For example, as the father of four children, there are certain common principles I want each of my kids to accept. However, because each child has a different personality, I have to approach each of the four in a different way. It's not that the principles I'm teaching vary from one child to another—it's simply that I use different methods to teach the same principles, because each child responds differently.
I think God works with us in the same way. He wants to bless each of us with as much as we can handle—but He loves me too much to give me a blessing that I'm unable to control and that could lead to spiritual destruction. So, if He blesses and challenges each of His children differently, while always teaching the same principles, doesn't it follow that God is able to give different children different blessings, too? For instance, Christian #1 is blessed with the ability to sing while Christian #2 wonders why he can't carry a tune in a bucket. Maybe it's because God knows that Christian #2 would use the gift of music in a worldly way. And, God loves him too much to allow him to lose his soul because he mishandled his gift.
I wonder if it isn't the same way with financial issues. Rather than asking God to give us wealth, maybe we should pray for Him to search our hearts and bless us only with those things we can handle. Then, if finances come your way, your mandate is to give and steward those monies properly. And, to the degree you show yourself a worthy administrator of those blessings, God is able to bless you with more. The following passage seems to support this view:
"Now this I say, he who sows sparingly shall also reap sparingly; and he who sows bountifully shall also reap bountifully…And God is able to make all grace abound in you, that always having all sufficiency in everything, you may have an abundance for every good deed…Now He who supplies seed for food, will supply and multiply your seed for sowing and increase the harvest of your righteousness; you will be enriched in everything for all liberality which through us is producing thanksgiving to God." (2 Corinthians 9:6, 8, 10, 11, NASV)
Have something to say about this article? Leave your comment via Facebook below!
advertise with us
Example: "Gen 1:1" "John 3" "Moses" "trust"
Advanced Search
Listen to Your Favorite Pastors