Does God Care How Much We Give?
Francis Chan, Author, Crazy Love
Thursday, October 13, 2011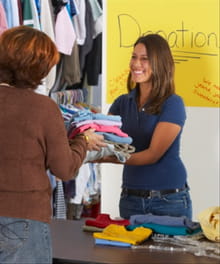 The ultimate example of sacrifice and surrender is, of course, Jesus Christ. He had everything and still chose to surrender it out of love for His Father. Your attitude should be the same as His.
…who, being in very nature God, did not consider equality with God something to be grasped, but made himself nothing, taking the very nature of a servant, being made in human likeness. And being found in appearance as a man, he humbled himself and became obedient to death—even death on a cross! Therefore God exalted him to the highest place and gave him the name that is above every name, that at the name of Jesus every knee should bow, in heaven and on earth and under the earth, and every tongue confess that Jesus Christ is Lord, to the glory of God the Father. ~ Philippians 2:5–11
John clearly tells us that "whoever claims to live in him must walk as Jesus did" (1 John 2:6). Are you ready and willing to make yourself nothing? To take the very nature of a servant? To be obedient unto death? If your honest answer to those questions is yes, how are those intentions manifested in your life?
In Matthew 25 we get a frightening picture of the coming judgment. In this passage, Christ condemns people to eternal punishment because they did not care for Him during their lives on earth. "For I was hungry and you gave me nothing to eat, I was thirsty and you gave me nothing to drink, I was a stranger and you did not invite me in, I needed clothes and you did not clothe me, I was sick and in prison and you did not look after me" (vv. 42–43).
The condemned protest, saying they never saw Christ in any of these positions of need, and Jesus responds, "I tell you the truth, whatever you did not do for one of the least of these, you did not do for me" (v. 45).
Ouch. To me that is like a stinging, unexpected slap in the face. Like many of you, I've heard that passage taught on numerous occasions. I've left convicted, but haven't taken it literally. We see it as a fresh perspective on poverty rather than a literal picture of impending judgment.
How would my life change if I actually thought of each person I came into contact with as Christ—the person driving painfully slow in front of me, the checker at the grocery store who seems more interested in chatting than ringing up my items, the member of my own family with whom I can't seem to have a conversation and not get annoyed?
If we believe that, as Jesus said, the two greatest commands are to "love the Lord your God with all your heart, soul, and mind" and to "love your neighbor as yourself," then this passage has a lot to teach us. Basically, Christ is connecting the command to "love God" with the command to "love your neighbor." By loving "the least of these," we are loving God Himself.
In this same chapter of Matthew, Jesus blesses some people for what they have done. Confused, they ask, "Lord, when did we see you hungry and feed you, or thirsty and give you something to drink? When did we see you a stranger and invite you in, or needing clothes and clothe you? When did we see you sick or in prison and go to visit you?" (vv. 37–39).
His answer is staggering: "The King will reply, 'I tell you the truth, whatever you did for one of the least of these brothers of mine, you did for me'" (v. 40). Jesus is saying that we show tangible love for God in how we care for the poor and those who are suffering. He expects us to treat the poor and the desperate as if they were Christ Himself.
Ask yourself this: If you actually saw Jesus starving, what would you do for Him?
This is how we know what love is: Jesus Christ laid down his life for us. And we ought to lay down our lives for our brothers. If anyone has material possessions and sees his brother in need but has no pity on him, how can the love of God be in him? Dear children, let us not love with words or tongue but with actions and in truth. This then is how we know that we belong to the truth, and how we set our hearts at rest in his presence whenever our hearts condemn us. ~ 1 John 3:16–20
Have something to say about this article? Leave your comment via Facebook below!
advertise with us
Example: "Gen 1:1" "John 3" "Moses" "trust"
Advanced Search
Listen to Your Favorite Pastors