Does God Care How Much We Give?
Francis Chan, Author, Crazy Love
Thursday, October 13, 2011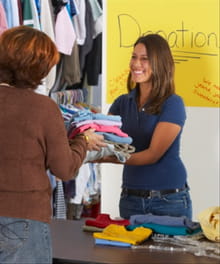 In this passage, we see that John questions whether it is possible to truly have God's love in you if you have no compassion for the poor. He uses as his example Christ's love manifesting itself through the sacrifice of His very life.
God didn't just give a little for us; He gave His best. He gave Himself. John is saying that it is no different for us: True love requires sacrifice. And our love is shown by how we live our lives: "Let us not love with words or tongue but with actions and in truth."
One of the clearest ways we love "with actions and in truth" is through giving to others. By giving, I don't mean just money, although that is certainly an element of it.
Another important element of giving is with our time. Most of us are so busy that the thought of adding one more thing to our weekly schedule is stressful. Instead of adding in another thing to our lives, perhaps God wants us to give Him all of our time and let Him direct it as He sees fit. One of the most memorized verses in the whole Bible says, "For God so loved the world that He gave" (John 3:16). Right there we see the connection between loving and giving evidently established.
Giving that is not motivated by love is worth nothing. Paul says from this kind of giving we "gain nothing"; however, when we give out of love, we gain much. Giving results not only in heavenly compensation, but also gives us great joy in our lives here and now. As we love more genuinely and deeply, giving becomes the obvious and natural response. Taking and keeping for ourselves becomes unattractive and imprudent.
Remember the story where Jesus fed thousands of people with one boy's small lunch? In that story, according to Matthew, Jesus gave the loaves to His disciples and then the disciples passed them out to the crowd. Imagine if the disciples had simply held onto the food Jesus gave them, continually thanking Him for providing lunch for them. That would've been stupid, when there was enough food to feed the thousands who were gathered and hungry.
But that is exactly what we do when we fail to give freely and joyfully. We are loaded down with too many good things, more than we could ever need, while others are desperate for a small loaf. The good things we cling to are more than money; we hoard our resources, our gifts, our time, our families, our friends. As we begin to practice regular giving, we see how ludicrous it is to hold onto the abundance God has given us and merely repeat the words thank you.
The apostle Paul addresses this issue of giving in light of the inequalities among the early believers:
Our desire is not that others might be relieved while you are hard pressed, but that there might be equality. At the present time your plenty will supply what they need, so that in turn their plenty will supply what you need. Then there will be equality, as it is written: "He who gathered much did not have too much, and he who gathered little did not have too little." ~ 2 Corinthians 8:13–15
Paul was asking the Corinthian believers to give to the impoverished saints in Jerusalem, the goal being that no one would have too much or too little. This idea is pretty far-fetched in modern-day culture, where we are taught to look out for ourselves and are thus rewarded.
The gap is so extreme in our world that we have to take lightly passages such as Luke 12:33: "Sell your possessions and give to the poor." How else can I walk out of a mud shack and back into my 2,000-square-foot house without doing anything? The concept of downsizing so that others might upgrade is biblical, beautiful…and nearly unheard of. We either close the gap or don't take the words of the Bible literally.
Dare to imagine what it would mean for you to take the words of Jesus seriously. Dare to think about your own children living in poverty, without enough to eat. Dare to believe that those really are your brothers and sisters in need.
Have something to say about this article? Leave your comment via Facebook below!
advertise with us
Example: "Gen 1:1" "John 3" "Moses" "trust"
Advanced Search
Listen to Your Favorite Pastors