Financial Harmony and the Stages of Marriage
Mary Hunt , Cheapskate Monthly
Friday, February 13, 2004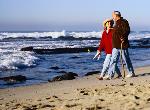 In the same way children go through predictable developmental stages, so do marriages. Of course we're all familiar with the "honeymoon period." But marriage has its equivalent of the Terrible Twos, even the stormy teenage years, too.
What follows is a generalization drawn from the experiences of many couples. Of course not everyone experiences these stages in exactly the same way. For sure all married couples at some point between "I do" and "till death do us part," leave the smooth highway of premarital innocence only to discover that marriage is very much like a dirt road.
Stage 1: Magnetic Attraction. You discover you've fallen in love with the most amazing person on the planet. You spend hours talking about your dreams and goals. By getting married, you will effectively double your income because your combined expenses will drop by half-according to your fuzzy math. Besides, you don't even care if you don't have much money.
Stage 2: Reality's Rude Awakening. Sometime after the honeymoon-maybe weeks, maybe months-you suddenly realize that marriage is complicated and your partner is less than perfect. You don't have nearly as much money each month as you planned and far more expenses. Rent, groceries, utility bills, car payments, student loans, friends' weddings, dinners out...there's not enough cash to go around. More credit seems like the only answer.
Stage 3: I Love You; Now Change! Once the shock wears off, one partner vows to take control to bring the other partner around to the "right way." Blame, hurt and resentment follow. Pressures fuel arguments about money and debt. Your marriage might not survive the strain. More than half of all couples who eventually divorce do so before their seventh anniversary.
Stage 4: Surrender and Acceptance. If you and your spouse stick together no matter what, after 15 or 20 years your marriage will eventually reach this stage. Tired of conflict, you come to accept the fact that you will never see eye to eye on certain things. Unfortunately by this stage many couples are still reaping the consequences of mismanaging their finances. An undertone of regret mixed with panic best describes your financial situation.
Stage 5: Peace, Harmony and Romantic Love. After hanging on through all the seasons of marriage, you discover that the amazing person you fell in love with way back in Stage 1 is the same person you've been with all these years. Romantic love reappears. But now it is more mature, with a sense of caring strengthened by endurance and commitment over time. It's not unusual for couples to be married for thirty years or longer before they make it to this stage.
No couple has to sit back and just let marriage happen, no matter which stage they're in now. Can you imagine how wonderful it would be to rear your children and make your major life decisions and manage your money with all the joy and harmony of Stage 5? Would you, if you could, just blow past the agony of feeling so alone and isolated? Skip the financial angst and turmoil? Well, guess what? You can have that and you can have it starting now.
Financial harmony thrives in the environments of Stages 1 and 5. That's not too difficult to figure out because it's in those stages that couples are not repelling one another. They're a team. They're not trying to change each other, they are not distanced by emotional barriers and they're not fighting all the time. They feel safe and secure.
Regardless of how long you've been married or where you are on the journey, you can get to stage 5 now. You don't have to wait thirty or forty years ... or even two.
Have something to say about this article? Leave your comment via Facebook below!
advertise with us
Example: "Gen 1:1" "John 3" "Moses" "trust"
Advanced Search
Listen to Your Favorite Pastors