Financial Planning from a Biblical Perspective
Marshall Potter, The National Planning Group of Ronald Blue & Co.
Friday, April 15, 2005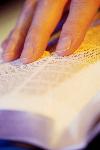 "For where your treasure is, there your heart will be also." Matthew 6:21 (NIV)
God has a plan for your life and your finances as well. Let's review a few important considerations that you will need to take into account in order to implement God's financial plan for your life.
The Right Foundation
The first important aspect of financial planning to consider is your purpose. Your purpose in life and the purposes that God calls your family to will have a great impact on the way you manage the resources God has given you.
If you understand your life's purpose first, you will become more effective in your day-to-day living and clearer about the financial decisions you need to make. Great examples of individuals who understood their purpose are William Wilberforce, who sought to abolish slavery in England, and Martin Luther in the Reformation. Both men lived with purpose and were amazingly effective as a result of this knowledge.
Where else can we see the effects of understanding one's purpose? We see it most clearly in the intentionality with which God directs our lives. God intentionally declares His holiness and does so with relentlessness as He interacts with us. God knows the plans He has for us and He is driven by this holy purpose. Think about the implications that this has for your life. God is seeking to reveal His holiness through you and He will not quit that purpose. What a great example God has given us of the focus we need to have.
How does this relate to investing and financial planning? Well, just as He did with Wilberforce and Luther, God has a plan for your life. You can be confident in this fact, and know that He will give you the necessary resources to accomplish His purposes. All you need to do is ask Him.
The fact that God has a plan for you also means that you need to be clear in understanding the gifts and resources that God has given your family and how you can work together to serve Himi. This understanding should direct where you give, where you invest your time and money, and how you view the world. Spend time thinking, praying, and journaling about this aspect of your life before you dig into the practical aspects of developing a financial plan.
The Tools
Once you have spent time understanding your purpose, the next step is to put together a solid financial plan. A number of great resources exist to help you through this process:
Master Your Money - by Ron Blue, takes a look what the Bible has to say about stewardship and combines it with advice on budgeting and managing your finances.
A Life Well Spent - by Russ Crosson, challenges your thinking about how to invest in your family from an eternal perspective.
Sound Mind Investing - by Austin Pryor, a great step-by-step resource outlining the process for investing and managing your finances from a Biblical and practical perspective.
The Word on Finances - by Larry Burkett, explores what the Bible says in regards to almost any area of your finances.
In addition to these resources, consider taking a Crown Ministries (www.crown.org) class through a local church or seeking out a good certified financial planner (CFP) who can help you. You can visit the CFP Board of Standards (www.cfp-board.org/cons_fndplr.html) or the Christian Financial Planning Institute (www.christianfpi.org) to locate a good CFP in your area.
Have something to say about this article? Leave your comment via Facebook below!
advertise with us
Example: "Gen 1:1" "John 3" "Moses" "trust"
Advanced Search
Listen to Your Favorite Pastors